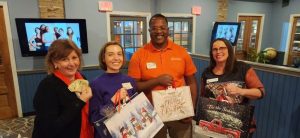 Boonies Burgers, Beer & Bait, located in scenic Tyaskin, MD, was the host of our fun and festive SACC Business After Hours on Thursday, December 8, 2022.
Owners John and Jasmine Knorr welcomed members and friends and expressed their thanks to the SACC for the great partnership and support provided to the restaurant industry in Salisbury, especially during covid when the industry was hurting the most.
"About Boonies… we used to come here when it was called Whiskers & Wife, and John, the previous owner, would make us these amazing steaks at 11:00 PM, after we had closed Red Roost. In 2000, after the owner tragically passed away in an accident and the restaurant sat empty for several years, my brother Tommy and I decided we wanted to buy it. When we got the keys and walked in, we realized that we had a lot to rebuild inside the restaurant. And we did, and it now has a fantastic outdoor area and fantastic local clientele, many of whom are here with us tonight."
The restaurant opens Wednesday to Sunday and uses only the freshest ingredients available, like fresh cut angus beef steaks and fresh seasonal seafood. Their menu offers daily specials and a variety of appetizers, salads, creative sandwiches, juicy burgers and hand-tossed pizzas. Beverages include a variety of cocktails (check out the peppermint martini!), shots, moonshine, beers, and 9 flavors Crushes to calm your thirst!
Well worth the drive, join them not only for the great food & drinks but also for the live entertainment on the weekends and special events throughout the summer season. Heading out to the water? No problem… Boonies will cater to you from their retail store beer, wine, spirts, delicious carry-out food, and even fishing supplies!
At the Business After Hours, guests were delighted with light fares the included coconut shrimp, shiitake potstickers, and choice of adult beverages! Door prize lucky winners were Christina Fuller, Paula Nichols and James Russ. 50/50 raffle, benefiting scholarships for Wor-Wic students, was won by Kathleen Mommé.
Visit Boonies at 21438 Nanticoke Road, Tyaskin, MD or for more information call 410-873-2244 or visit their web page at www.booniesrestaurant.com.