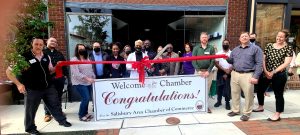 The Salisbury Area Chamber of Commerce welcomed Brandi Wallace, owner of The Hair Clinic Rx, as a new member in February 2022.   The official SACC ribbon-cutting took place on Wednesday, May 25, 2022 with a group of 35+ that included staff, family, friends and Chamber members.
Originally from Salisbury, Brandi studied in Wicomico High school, and went to the Delmarva Beauty Academy.  She moved to Baltimore where she became established as an international celebrity stylist.  She has been in the cosmetology business for over 20 years, and became very interested in trichology, which is a para-medical science of hair, hair loss and associated scalp problems.    In 2016, after losing her sister to lung cancer, she moved back to Salisbury and met her husband, and she wanted to open not just a regular salon, but one that provided a special service, thus creating The Hair Clinic Rx.
The Hair Clinic Rx specializes in hair loss recovery by providing you with multiple hair restoration solutions such as hair care solution & maintenance, hair loss restoration and non-surgical hair replacement.
Brandi Nichole Wallace is a Certified Hair Loss Specialist & Trichologist with a Master's Degree in Professional Cosmetology. She is also an International Certified Confidence Coach.  She has been in the beauty industry for 20 years and has made her mark as an International Stylist, Educator, and Author.  Dedicated to assisting her clients with not only the best services experience but providing hair care and beauty education that will build her client's self-esteem and self-confidence.
Contact The Hair Clinic RX by visiting their website at www.hairclinicrx.com
Address:  235 W. Main St, Suite E, Salisbury, MD / Phone: 667-281-9603 / Email: Info@hairclinicrx.com