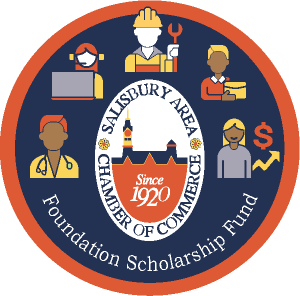 The Advisory Board of the Salisbury Area Chamber of Commerce Foundation is proud to announce the creation of a new scholarship fund.   The scholarship was established to provide additional educational funding for members and family members of the Salisbury Area Chamber of Commerce.
The objective of the Foundation Scholarship Fund is to further each recipient's education at a certified college, professional, technical, vocational, or business school that will enhance the recipient's ability to positively impact the Delmarva business community.
The award is $1,000 yearly for up to four years of study or a one-time time award for trade scholarships.
Our application window is now open.  Please use this link to apply for the scholarship.
https://salisburyarea.com/sacc-foundation-scholarship-fund/
Scholarship Timeline
November 2023 – The application process opens.
February 2024 – The application deadline is February 28, 2024
March 2024 – The selection committee selects winners.
April 2024 – The scholarship awards are announced.
The Salisbury Area Chamber Foundation Scholarship Fund has received significant support from the Pohanka Automotive Group of Salisbury and past board presidents Memo Diriker and Stephanie Willey. We are seeking support in the form of donations and will be participating in Shore Gives More Giving Tuesday on 11/28.  We welcome your support!
For more information, please contact
Stephanie Willey, SACCF Co-Chair 410-726-2041 or stephanie_willey@wmdt.com
Karri Todd, SACCF Co-Chair 443-521-0978 or ktodd@pohankaofsalisbury.com