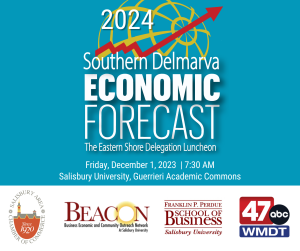 Presented by the Salisbury Area Chamber of Commerce, Beacon at Salisbury University, and the Franklin P. Perdue School of Business at Salisbury University, the 36th Annual Southern Delmarva Economic Forecast will be held on Friday, December 1, 2023, from 7:30 AM – 2:00 PM at the Salisbury University Guerrieri Academic Commons.
The event is an unparalleled opportunity to hear first-hand what leading regional economists and business leaders believe to be the most significant achievements and challenges ahead.
The 2024 Southern Delmarva Economic Forecast curriculum includes regional economists and business leaders who will analyze the challenges facing regional, national, and global economies.
The first panel, local Economic Development Directors, will speak to how the current economy is impacting several industry sectors including construction, retail, housing, tourism and manufacturing. Panelists include David Ryan, Executive Director, Salisbury Wicomico Economic Development; Melanie Pursel, Director, Office of Tourism & Economic Development at Maryland's Coast, Worcester County; Susan Banks, Director, Dorchester County Economic Development; Daniel Thompson, Executive Director, Somerset County Economic Development; William Pfaff, Executive Director, Sussex County Economic Development, Delaware; and Leander Pambid, Accomack County Virginia Economic Development.
Panel two, Keys to Attracting Productive Employees and Leaders, will feature panelists Eric Johnston, President & Financial Advisor, In Focus Financial Advisors, Inc.; Michael Jensen, Executive Director of Entrepreneurship at Salisbury University; Ruth Baker, Dean of Continuing Education and Workforce Development, Wor-Wic Community College, and Katarina Ennerfelt, President & CEO, Toroid Corporation.
The third panel, Tackling Workforce Challenges, Post-Pandemic, features Leslie Sinclair, Program Manager, LSCCRC/Eastern Shore Child Care Resource Center; Andrew Griffin, Senior Vice President, Government Affairs, Maryland Chamber of Commerce; and Bernie Flax, Chief Executive Officer, Coastal Association of REALTORS®.
The fourth panel, Climate Change Legislation-Pros and Cons for Business, will feature panelists Paul Pinsky, Director, Maryland Energy Administration; G. Andrew Getty, Chief Compliance Officer, VP, Environmental Sustainability and Government Relations at Perdue Farms; Alan Girard, Eastern Shore Director, Chesapeake Bay Foundation; and Geoffrey Pohanka, Chairman, National Automobile Dealers Association.
Following the forecast, the Lower Shore Legislative Delegation will be on hand to answer questions during the 2024 Maryland General Assembly Session Preview.
Zach Evans will moderate the forecast, and Greg Reddell will oversee the legislative Q & A.
This year's Economic Forecast is sponsored by:
Presenting Sponsors of this year's forecast are BEACON at Salisbury University and the Franklin P. Perdue School of Business; Media Sponsor 47abc WMDT; CEO Level Sponsors CareFirst BlueCross BlueShield, D3, Ørsted, Pohanka of Salisbury Automotive, Simple Fiber, and Wor-Wic Community College; Chairman Level Sponsors Avery Hall Insurance Group, Bank of America, Delmarva Power, Effectv, M&T Bank, Mountaire Farms, Perdue Farms, Inc., TidalHealth, University of Maryland Eastern Shore, and The Voice Radio Network; Board Level Sponsors ABC Chesapeake Shores, BBSI Salisbury, Chesapeake Health Care, Chesapeake Utilities, Delmarva Veteran Builders, Greg Reddell-State Farm, Hebron Savings Bank, Peninsula Roofing Company, Inc., SVN Miller Commercial Real Estate, Taylor Bank, Tri-County Council for the Lower Eastern Shore of Maryland, and W. R. McCain & Associates; Supporter Level Sponsors Bancroft Construction Company, The Bank of Delmarva, Choptank Electric, Davis, Bowen & Friedel, Inc., Delmarva Chicken Association, Gillis Gilkerson, Minuteman Press, NAI Coastal, PennTex Ventures, LLC,  Salisbury Wicomico Economic Development, SCORE Delaware/Coastal Delmarva, State and Local Advisors, The Payne Team of REMAX Advantage Realty, Truist, Whitehead Real Estate Executives, and Whitehead Rental Management.
SPONSORSHIPS ARE AVAILABLE and REGISTRATION IS REQUIRED
Complete Forecast and lunch are included. Tickets are $75 for members and $100 for future members and may be purchased online at https://bit.ly/3rF0EtR.
PLEASE NOTE: All attendees MUST register for a FREE PARKING PASS if parking at Salisbury University. You may register using the link below. Once submitted, your vehicle will be registered, and there is no need to print a pass. Parking passes are available online at https://bit.ly/46MRxWz