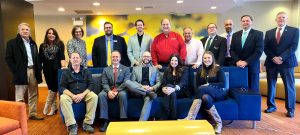 The incoming Executive Board and Voting Council took an oath of office for the coming year at the Salisbury Area Chamber of Commerce Installation Luncheon, held on January 11, 2022, at the Courtyard by Marriott in Salisbury, MD.
Wicomico County Executive John Psota welcomed members with a snapshot of how the County Government navigated the pandemic, followed by a bright outlook moving forward.  "Our County is poised for great things, including improvements to our airport, investing in rural broadband, supporting our law enforcement agencies, and continuing to provide high-quality County services to businesses and taxpayers without raising taxes and fees."
Jeff Merritt, owner of Minuteman Press, was sworn in for a second term as the Chairman of the Board by Wicomico County Clerk of the Courts James "Bo" McAllister.
Merritt thanked current and past Board members for their support and tenacity. "This past year was another challenging one for the Chamber and our business community. I look forward to leading the Chamber in 2022 as we collectively work to support our local and regional members, as well as foster the growth of new businesses."
Philip Bunn of Chaney Enterprises, Greg Reddell of Greg Reddell State Farm Insurance, and Deanna Whittington of M&T Bank were welcomed to the 2022 Board of Directors, joining returning board members Ryan Bass, Woodforest National Bank; Melodie Carter, Hebron Savings Bank; Zach Evans, Mountaire Farms; D. Nicole Green, D. Nicole Green, PA; Aaron Guy, Pohanka Automotive; Dr. Murray Hoy, Wor-Wic Community College; Craig Jahelka, Draper Media; Shawn Jester, Office of Congressman Andy Harris; Chelsey Jones, Wicomico Civic Center; Shawna Kearsley, Independence Transport & Logistics, LLC; Mike Kleger, PKS & Company, PA; Jeff Merritt, Minuteman Press; Eli Modlin, Salisbury University; Alexis Roskovich, Becker Morgan Group; Karri B. Todd, Shore Insurance: Allstate Insurance; and Donnie Waters, Maryland Capital Enterprises.
The 2022 Voting Council members include Dr. Heidi Anderson, University of Maryland Eastern Shore; Sandy Fitzgerald-Angello, Pohanka Automotive Group of Salisbury; Ron Boltz, Alarm Engineering, Jay Bosley, D3 Corp.; Catherine Curran, GSB Media, A+ Clean Out & Junk Removal, The Angry Axe & Rage Room, LLC; Randy Day, Perdue Farms, Inc.; Justin Kelley, Impact Technology Group; Habacuc Petion, Rebirth, Inc.; Dr. Christy Weer, Perdue School Of Business; and new council member Colin Zimmerman, Coastal Association Of Realtors®.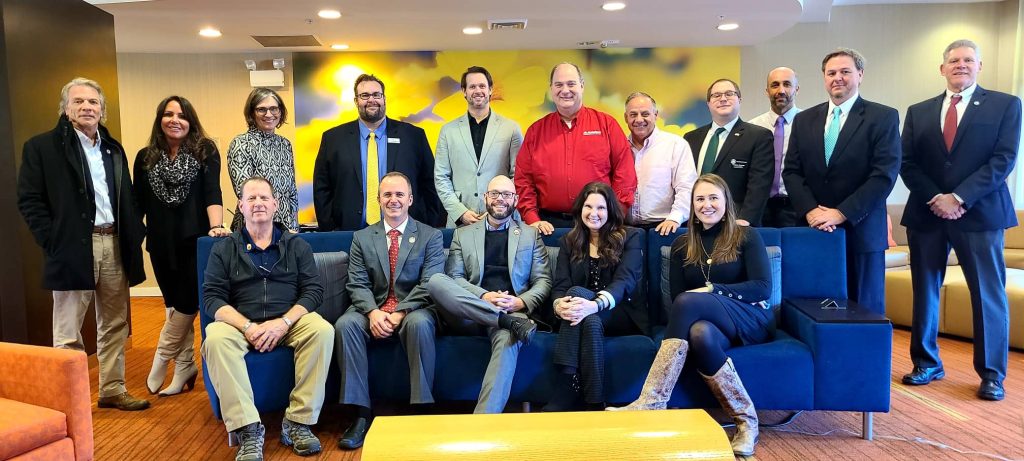 About the Salisbury Area Chamber of Commerce
With a strategic location along the East Coast, the Salisbury Area Chamber of Commerce (SACC) is at the geographic center of the Delmarva Peninsula and the regional hub for economic development, art, education, transportation, business, agriculture, government, and health care for Maryland's Eastern Shore.
The SACC is an organization of community-focused leaders dedicated to promoting the growth of these sectors and thereby the area as a whole.
The overarching goal of the Chamber is to provide real value to our members and the business community. Businesses that take part in SACC tend to become more motivated and knowledgeable in their fields, benefiting the area. Members have access to a multitude of events including educational workshops, business seminars, and informative luncheons featuring speakers ranging from government dignitaries to entrepreneurs to experts in the economic sphere.
The Chamber delivers the substantial benefit of being present and visible through networking, as it assists in building connections throughout our community.
The SACC is dedicated to strengthening, broadening, and fortifying members' business strategies, relationships, and commerce through our three pillars: Education, Connection, and Advocacy.
Through these ideals, not only will the scenic, industrious Wicomico County realize greater success, but the entire Eastern Shore and Maryland will as well.
The SACC represents nearly seven-hundred businesses and organizations from ten Maryland counties and four states.
Interested in becoming a member? Contact Sigrid Velez-Nelson, Director of Membership, at svelez@salisburyarea.com or call 410-749-0144.
For more information on all Chamber news and upcoming events, please follow the SACC on social media or visit www.salisburyarea.com.