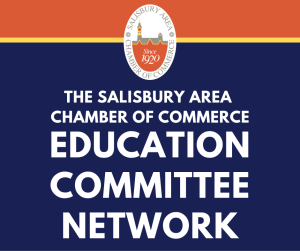 "NEWS OUR COMMUNITY CAN USE" (SEPTEMBER 2022)
The Salisbury Area Chamber of Commerce – Education Committee Network will broadcast its Inaugural PAC-14 TV Show entitled "EDUCATION IS EVERYBODY'S BUSINESS" this month.  This bi-monthly 30-minute TV Show is designed to be a source of Community Awareness and Knowledge of topics that impact Education and Workforce Development here in our Lower Eastern Shore communities. The September broadcast will focus on the critical education topic – "We have a Mental Health Crisis".
Hosted by Dr. Ladd Colston of Sustainable-Visions, this first show will feature three (3) local professionals who work directly with patients, families, and students regarding Mental Health Issues. They are Dr. Katherine Layton, pediatrician at TidalHealth Peninsula Hospital here in Salisbury and The Children's National Hospital in Washington, DC; Dr. Samantha Scott, psychologist and Clinical Director of the Child And family Center in Salisbury and Easton, and Ms. Tiffany Tatem, Licensed Social Work supervisor in the Wicomico County Public Schools.
This TV Show is being sponsored by the Community Foundation of the Eastern Shore and will be aired with student-centered informative educational topics in September, November, January, March, and May.  The public is encouraged to tune in or access the YouTube PAC-14 broadcast.
FALL EDUCATION ANNOUNCEMENTS AND OPPORTUNITIES:
Wor-Wic Community College: The public is invited to attend a free reading by poet Charles Kell on Thursday, Sept. 29, at 7 p.m., in Room 302 of the Hazel Center at Wor-Wic Community College in Salisbury. Kell's books include "Cage of Lit Glass," which won the 2018 Autumn House Press Poetry Prize, and "Pierre Mask," winner of the 2019 James Tate International Poetry Prize. He is an assistant professor of English at the Community College of Rhode Island and a senior editor of the Ocean State Review.
Visit the events section of www.worwic.edu for more information.
CONGRATULATIONS to Our NEW Educational Leaders
The SACC Education Committee Network membership would like to express our CONGRATULATIONS AND SUPPORT to Dr. Micah Stauffer, the NEW Superintendent of the Wicomico County Public Schools, AND Dr. Carolyn Ringer Lepre, the NEW President of Salisbury University. Best Wishes for Much Success!