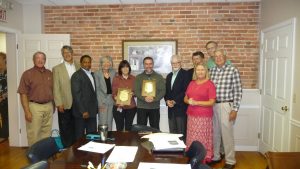 The Trustees of The Salisbury Award are pleased to announce the presentation of The Salisbury Award to Colleen Hazel and Morgan Hazel.
In addition to presenting a plaque to memorialize the selection, the Trustees will make a donation of $500 to a non-profit organization chosen by the honoree.
The Salisbury Award is the community's oldest and most prestigious independent civic award. First given in 1926, the award was established and originally endowed by local businessman G. William Phillips to recognize "service that has been the greatest benefit to the happiness, prosperity, intellectual advancement or moral growth of the community."
The Hazel Family has generously supported many organizations in our community to include the Chipman Cultural Center, MAC Center, UMES, The Salisbury Zoo, the Richard Hazel Youth Center, Wor Wic Community College, Salisbury YMCA, Hazel Outdoor Discover Center, the Ward Museum and PRMC. Their commitment to the betterment of our community continues the legacy of their Father, Richard "Dick" Hazel, a 1994 Salisbury Award Honoree, and their Grandfather, William Morgan, a 1969 Salisbury Award Honoree.
This ceremony marks the 67th time The Salisbury Award has been presented to an individual or an organization since the Award's inception.
Previous honorees include James M. Bennett, Avery Hall, Richard Henson, Frank Perdue, Dick Hazel, Sam Seidel, Paul Martin, Virginia Layfield, Mitzi Perdue, Lewis Riley, Pete Cooper, George Whitehead, Tony Sarbanes, Bill Ahtes, Ben's Red Swings, and The Community Foundation of the Eastern Shore, The Magi Fund, Norm Conway, Bob Cook, The Greater Salisbury Committee and The Fruitland Community Center.
To learn more about The Salisbury Award and its history, including a list of all the honorees since 1926, please visit our Facebook page.