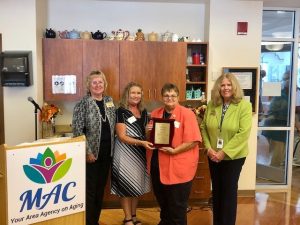 The Trustees of The Salisbury Award are pleased to announce the presentation of The Salisbury Award to MAC Inc. The recognition took place on September 15, 2022, at an open house welcoming MAC's new CEO, Paula Erdie, and recognizing the retirement of Executive Director, Pattie Tingle. Retired MAC Executive Director Peggy Bradford was also in attendance to receive the award. In addition to presenting a plaque to memorialize the selection, the Trustees will donate $500 to MAC, Inc to support a program of their choice.
The Salisbury Award is the community's oldest and most prestigious independent civic award. First given in 1926, the award was established and originally endowed by local businessman G. William Phillips to recognize "service that has been the greatest benefit to the happiness, prosperity, intellectual advancement or moral growth of the community".
MAC, Inc is being recognized for 50 years of service to our community. MAC is one of the five oldest Area Agencies on Aging in the United States. MAC offers an abundance of services to help more active seniors live their lives to the fullest, such as helping retirees find meaningful volunteer opportunities through the RSVP program; helping seniors to improve their physical fitness and to take charge of their health through various wellness programs and classes; and a network of senior centers, where participants can enjoy recreational activities, fitness and educational programs, and the company of other seniors.
Other programs address the needs of the frail and vulnerable elderly, helping them remain independent and living in their own homes for as long as possible. Meals on Wheels delivers a nutritious meal, a safety check, and a human connection to break isolation for frail, home-bound seniors, who are not able to get food and prepare their own meals due to illness or disability. The Ombudsman program safeguards seniors living in long-term care facilities from abuse and neglect. Other services provide critical information and support, including health insurance counseling, help for caregivers, case management of supportive services and a senior employment program.
This ceremony marks the 72nd time The Salisbury Award has been presented to an individual or an organization since the Award's inception. Previous honorees include James M. Bennett, Avery Hall, Richard Henson, Frank Perdue, Dick Hazel, Sam Seidel, Paul Martin, Virginia Layfield, Mitzi Perdue, Lewis Riley, Pete Cooper, George Whitehead, Tony Sarbanes, Bill Ahtes, Ben's Red Swings, and The Community Foundation of the Eastern Shore, The Magi Fund, Norm Conway, Bob Cook, The Greater Salisbury Committee, The Fruitland Community Center, Perdue Farms, The Salisbury Area Chamber of Commerce, the Wicomico Rotary Club and Marty Neat.
To learn more about The Salisbury Award and its history, including a list of all the honorees since 1926, please visit our Facebook page.