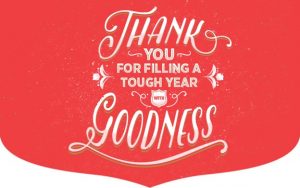 Salisbury, MD – January 19, 2021 – The Salvation Army Lower Eastern Shore made a call for help to Rescue Christmas in 2020 and our community answered at the Red Kettle. In a year of unprecedented need, we expected a possible 50% decrease in fundraising at the Red Kettle. Instead, we were able to get close to our goal and provide help to so many in need. That is because of partners, donors, and tireless workers who stepped up amid the affects by COVID-19 in 2020.
"We want to say, 'thank-you' to all who made it possible for us to provide life-saving services to the hungry, homeless and families and individuals feeling hopeless in Somerset, Wicomico and Worcester counties all year long," said Capt. Matthew Trantham. "Some people think The Salvation Army takes a break after Thanksgiving and Christmas, but we continue to meet year-round needs for those in the community who are less fortunate or who have fallen on bad times, the funds we raise during Red Kettles help us assist those in need with food, clothing, and emergency assistance throughout the year."
We had much community support for our annual Angel Tree program. We were able to give gifts to 1010 children this Christmas season. Salvation Army units across the country turned to virtual sign ups and shopping, to ensure the safety of families and donors. "We ran the program a bit differently this year by starting registration earlier and having a drive-thru distribution for the gifts to try to keep everyone safe," said Capt. Cristina Trantham. "It is our mission at The Salvation Army to not just fill a need, but to give hope. We saw a wonderful outpouring of love from companies, organizations, families, and individuals. There was no shortage of gifts as in past years, the community provided for each angel on our trees and we are very thankful."
For more about our programs, volunteering or to make a donation to help with efforts at The Salvation Army Lower Eastern Shore, please visit https://salvationarmypotomac.org/salisbury or give us a call at 410-749-7771 ext. 100.