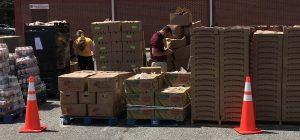 The Salvation Army Lower Easter Shore Hosts Drive-Thru Food Distribution Day
Salisbury, MD – August 14, 2020 – The Salvation Army Lower Eastern Shore will be hosting a Food Distribution on August 19 from 11a.m. to 2p.m. or while supplies last. The drive-thru distribution will take place at The Salvation Army behind the administration building. The Food Distribution is open for residents of Somerset, Wicomico, and Worcester counties. Residents should bring photo ID and current utility bill for proof of residency.
The Salvation Army is dedicated to eliminating food insecurity. As defined in 2017 USDA study, "food insecurity" is "a disruption to food intake or eating patterns due to lack of money or other resources." With more than 48 million Americans facing this threat daily, we work to cure hunger by providing nutritious meals to anyone in need via food pantries and/or meal assistance. This includes help for homeless people of all ages as well as individuals and families in need of extra assistance. In addition to addressing the immediate symptoms of food insecurity, our programs are designed to help identify and treat its root cause. Over time, this holistic approach to the physical, mental, and spiritual needs of each person helps move many from "hungry" to "fully healed."
Since the COVID-19 pandemic struck the Lower Eastern Shore in Mid-March, The Salvation Army has distributed over 200,000 pounds of food to over 8,800 individuals. We will continue to do so until the need is met.
To learn more about our Food Distributions, volunteering or to make a donation to help with efforts at The Salvation Army, please visit https://www.salvationarmymwv.org/ or give us a call at 410-749-7771 ext. 100.