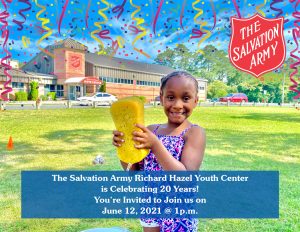 SALISBURY, MD – June 2, 2021 – The Salvation Army Lower Eastern Shore Richard Hazel Youth Center will be celebrating 20 years of operation on June 12, 2021.
The Richard Hazel Youth Center (RHYC) was originally called the West Salisbury Youth Club. With the financial help from local resident, Richard Hazel, the club was renamed with recognition going to Mr. Hazel. The RHYC accommodates children 5-15 years old. The RHYC is a welcoming place for children and young teens and is known to enrich lives through homework assistance, sports programs, summer camp and mentorship. "We are very excited to see the growth of the Richard Hazel Youth Center over the years. Being able to nurture the youth in the community is a blessing" said Capt. Matt Trantham.
On June 12, there will be a ceremony recognizing the 20-year anniversary with remarks from Advisory Board members and proclamations by government officials. Following the ceremony there will be a tour of the facility and refreshments. The ceremony will be held outdoors and the public is welcome to attend. This is a free event; RSVP your attendance by June 5 by calling 410-749-7771 ext. 100. Donations are being accepted for the event and the RHYC.
For more about our programs, volunteering or to donate to help with efforts at The Salvation Army Lower Eastern Shore, please visit https://salvationarmypotomac.org/salisbury or call 410-749-7771 ext. 100.