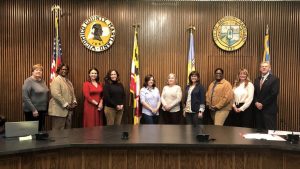 SALISBURY, MD – The Wicomico County Commission for Women was reinstated and held their first meeting on International Women's Day. 
The Commission is a non-partisan organization dedicated to enriching the lives of women by focusing on issues of importance and concern to them including, but not limited to, education, economic opportunities, health care, social issues and legislation. The Commission advocates for women and advises the County Executive and all governing bodies on all areas of concern.  
Katherine Jones commented, "It is rewarding to see the Commission for Women reinstated. Thanks to the help of Councilwoman Nicole Acle, Acting County Executive John Psota and Public Relations Liaison, A.Kaye Kenney we were able to celebrate our first meeting on International Women's Day. The Commission is ready to address matters related to discrimination or prejudice on account of gender and also recognizes the accomplishments of the women of Wicomico County."   
The Commission is looking forward to collaborating with other counties and being represented at the state level. The Maryland Commission for Women works with the state government to advance solutions and to expand social, political and economic opportunities for all women.  
The Wicomico County Commission for Women meet the second Tuesdays of every month at 4:00 p.m. in Room 301 of the Government Building. The meetings are open to the public.  
Dr. Katherine Jones has also been appointed to serve on the Wicomico Charter Review Committee, the City of Salisbury's Disability Advisory Council, and the State Rehabilitation Council. She is a member of the Greater Salisbury Committee, Salisbury's Chamber of Commerce, and Kennedy Krieger's Community Advisory Council. She is the Executive Director for Bay Area Center for Independent Living and is an adjunct instructor for Salisbury University. Katherine graduated from James. M. Bennett High School went on to earn her B.A. in History and M.Ed. in Public School Administration from Salisbury University and then earned her Educational Doctorate in Innovation and Leadership in Higher Education from Wilmington University. She has been married for 30 years to Todd Jones, and together, have raised four children who have attended Mardela Middle and High School and Salisbury University.
Dominique Sessa proudly serves as the Vice-Chair of the Women's Commission. She serves Maryland and the Governor as Chairwoman of the MD Assistive Technology Loan Program, a Commissioner for the MD Commission on Disabilities, and the MD Council on Hereditary and Congenital Disorders. She also serves as the Chairwoman of the Salisbury Disability Advisory Committee. 
Kat Rodgers is the Director of Community Health Initiatives for TidalHealth. In this role, she leads the community wellness and nutrition/diabetes education departments within TidalHealth Population Health Management division. She has a diverse experience in coalition building, provider relations, leadership and building public health infrastructure. Kat is a Mississippi native who graduated from the University of Colorado in Boulder with a Bachelor of Science in Journalism-News Editorial, and a Bachelor of Arts in Philosophy. She holds a Master of Public Health from University of Maryland – College Park. She resides in Salisbury, Md. with her husband, two sons and their lab. She and her family love being active outside – running, biking, hiking and playing at the beach.   
Mrs. Lori Brewster was selected as Wicomico County's first Deputy Health Officer in 2002 and was named Acting Health Officer in 2007.  In April 2008, she was officially appointed as Wicomico County's Health Officer.  In July, 2018 Mrs. Brewster was named Health Officer for Somerset County, and served as Health Officer for both counties until May 2021.  She continues as Health Officer in Wicomico. Mrs. Brewster earned a Bachelor of Science from Salisbury University and a Master of Science in Psychiatric and Mental Health Nursing from the University of Maryland.  She worked as a registered nurse at Eastern Shore Hospital Center, New Beginnings, Peninsula Regional Medical Center and Choptank Adolescent Mental Health Treatment Center before joining the Wicomico County Health Department in 1991. 
Mrs. Nicole Acle is a Registered Dietitian/Licensed Dietitian and business owner of MNT (Medical Nutrition Therapies), LLC, a medical consulting business, Graceful Magnolia, LLC, a vocational rental management company and is the co-owner of a medical practice with her husband Dr. Fernando Acle. She currently serves on the Executive Board of Directors for Habitat for Humanity. She is also a committee member of Salisbury Promise Scholarship and the Maryland Assistive Technology Advisory Committee. Mrs. Acle is also a volunteer for Mensa Affiliate for Gifted & Talented Youth Eastern Shore of Maryland and is a Membership Coordinator for the Maryland Coalition of Gifted and Talented Education and is leadership trained for Disability Rights and Advocacy. Mrs. Acle also received the Governor of Maryland's "Award for Volunteer Service." Mrs. Acle also received the 2020 President's Volunteer Service Award. 
Dr. Brante C. Dashiell is a native of Salisbury Maryland daughter of James Dashiell and Denise Davis and Alumni of Parkside High School.  She received her Doctor of Education from Nova Southeastern University (summa cum laude), Master of Education and Human Development from George Washington University, Bachelors of Science in Rehabilitation Services from University of Maryland Eastern Shore. She has served in various capacities in the field of education for over thirty years within the United States and abroad. Dr. Dashiell is a two-time recipient of Who's Who Among Americas Teachers. She volunteers to serve as a member of the Democratic Central Committee, Parks and Recreation Commission, City of Salisbury, Former Eastern Shore Regional Chair for United Democratic Women of Maryland, Census 2020 Complete Count Committee Co- Chair, and board of directors for Elevate her Inc., most recently former president of NAACP Wicomico County.  
Julie Giordano has been in education for 17 years for Wicomico County Public Schools. She graduated with a bachelor's degree in Communications/Public Relations from Salisbury University and earned her master's degree in Leadership/Administration.  Prior to teaching, she was an HR Manager and Special Events Manager for the private and public sector.  She has been married for almost 15 years.  She has two stepchildren, and a son who attends Mardela Middle/High School.  She is a member of MFRW, has been appointed to the Republican Central Committee, has chartered and is Chair of the Lower Shore Young Republicans, was appointed to the redistricting committee, and has taken the lead role in education and legislation with the Delmarva Conservative Movement. 
Wendy Gordy is a Salisbury native who graduated from Salisbury University with a degree in Social Work. She works for a non-profit agency and is the Director of Quality Assurance and a team lead for her Supports Planning Agency.  Wendy prides herself in enriching the lives of others by ensuring those with disabilities can remain safe in their homes by establishing services for them. She is also the Chair of the Administrative Council at Union United Methodist Church and the Treasurer for United Methodist Women. 
Takara Melton is a native of Salisbury Maryland and graduated from Salisbury University with a bachelor's degree in Social Work. She currently works for a non-profit organization where she provides case management and assistive services for individuals with disabilities. She enjoys spending time with her daughter and bringing laughter to anyone in her presence. 
Rockel Coston, native of Salisbury, is a graduate of Salisbury University where she obtained her Bachelor and Master of Social Work. Rockel provides personal and professional support for individuals on the Lower Eastern Shore at a non-profit organization. She enjoys spending time with her family and loved ones. She also has voluntarily served our community in feeding the homeless, cleaning our adopted highways and creating scholarships for local high school students.  
Dr. Kathryn Fiddler is presently the Vice President of Population Health for TidalHealth, a non-profit two hospital health care system on the Eastern Shore of Maryland. In this role she has been instrumental in building community programs supporting improved access to healthcare services on the Eastern Shore of Maryland. She has overseen notable programs including Salisbury Wicomico Integrated First Care Team (SWIFT), Community Health Worker program, and other community-based programs. She also oversees TidalHealth's Richard A. Henson Research Institute, McCready Foundation and Alice B. Tawes Nursing and Rehabilitation Center, School-Based Wellness Centers, Care Coordination and Care Management Teams and health system Health Equity initiatives.  
Hilarie Dobbs Mullen grew up in Wicomico County and graduated from James M. Bennett. She then went on to pursue her degree from Salisbury University in the field of Social Work and has served our community for six years. She is a wife and a mother of two children; and is immensely passionate about women's issues and politics.   
Tiffany C. Arrington works full time as Program/Case Manger as Salisbury University and the creator and visionary of Validating Our Worth (VOW), a not for profit, consultative, support service primarily serving first responders, veterans and faith-based agencies.  She has navigated the human services terrain for over 20 years by providing crisis intervention, academic advising, career assessment, and individual and family therapy.  Her academic training: Bachelor of Science in Family Studies from University of Maryland, Master's degree in Counseling Psychology from Bowie State University.  She is known to uniquely intertwine her charismatic yet straight-forward personality, faith, and counseling skills to intentionally build healthier communities.