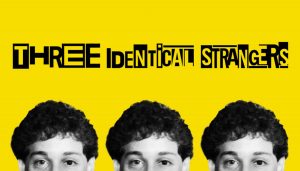 SALISBURY, MD—The Salisbury Film Society (SFS) presents the biographical documentary Three Identical Strangers 2:30 p.m. Sunday, October 6 in the Fulton Hall Film Center (Room 111) at Salisbury University.
Winner of the Grand Jury Prize at the 2018 Sundance Film Festival and nominated for three Primetime Emmys, Three Identical Strangers is the true story of identical triplets separated at birth and reunited by coincidence. The compelling and twist-filled tale sets in motion events that unearth an unimaginable secret with radical repercussions for us all.
The SFS series is co-sponsored by the Salisbury Wicomico Arts Council (SWAC) and SU's Charles R. and Martha N. Fulton School of Liberal Arts.
Tickets are $9, $8 for SWAC members, and free for university or college students with ID. For more information call 410-543-2787 or visit the SWAC website at www.getswac.org.