Thrive senior expo celebrates life after 55
Are you age 55 or older? Head to Thrive Saturday, Oct. 26 and learn more about opportunities, services and other aspects of senior life in the community!
Thrive, a free senior expo event, will be held Saturday, Oct. 26, from 10 a.m. to 3 p.m. at MAC in Salisbury. Admission is free.
Visitors can stop by vendor stalls, browse educational exhibits, and attend presentations, all offering information and more that's relevant to senior living.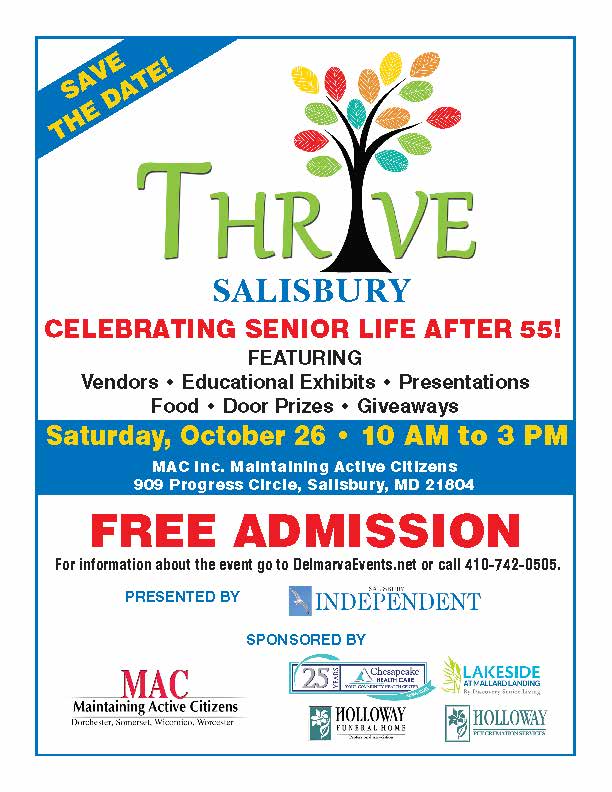 Presentations and demonstrations are scheduled throughout the day.
Programs in the education wing will include:
Presentation on the new Community for Life Program, 10 to10:30 a.m.; and 2 to 2:30 p.m.;
Discussion/presentation on caregiving: "Caring for a Loved One: How to Keep Your Ship from Sinking," 10:30 a.m. to noon, examining financial, legal and Social Security issues;
"Aging Into Medicare" presentation: 12:30 to 2 p.m. If you are getting ready to turn 65 in the next 6 months or will be going on Medicare soon, MAC's new class, "Aging Into Medicare," is for you. Discussion will include how Medicare works, what it covers and when to apply. Advance registration required; call 410-742-0505.
Visitors can learn the 10 signs of Alzheimer's, and take a tour of MAC's innovative new Life Bridges project space, at 10 a.m., 11 a.m., noon and 1 p.m.
Stop by the Caregiver Resource Interactive Lab and see the latest technology available for caregivers, followed by a Q&A session: at 10:30 a.m., 11:30 a.m.; 12:30 p.m. and 1:30 p.m.
In addition, MAC's Richard W. Henson Wellness Center gym will offer 15-minute demonstrations, including:
Simple stretch & tone at 10:30 a.m., 11:30 a.m. and 12:30 p.m.
Tai Chi at 11 a.m., noon and 1 p.m.
Demonstration of the Alter G Anti-Gravity treadmill at 11:15 a.m., 12:15 p.m. and 1:15 p.m.
Food will be available, along with door prizes and other giveaways.
For information about the Thrive Salisbury event, visit DelmarEvents.net or call 410-968-1189.
Thrive is being presented by the Salisbury Independent.
MAC Inc. is located at 909 Progress Circle, Salisbury, off Snow Hill Road across from Dayton's Restaurant and behind the Holly Center.