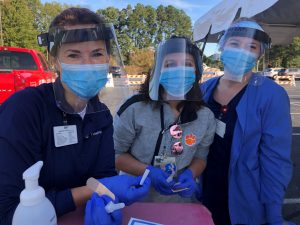 2,933 Vaccinations administered at TidalHealth Peninsula Regional's Drive Thru Flu Clinic!
Tidal Health would like to extend its thanks and gratitude to 2,933 people on Delmarva who were vaccinated against the flu during the TidalHealth Peninsula Regional 2020 Drive-Thru Flu Clinic on October 9 at Arthur W. Perdue Stadium.
TidalHealth appreciates the community protecting their health, and thanks the Delmarva Shorebirds for their long-standing partnership and the use of the ballpark to host TidalHealth's largest and best-attended annual community healthcare event.