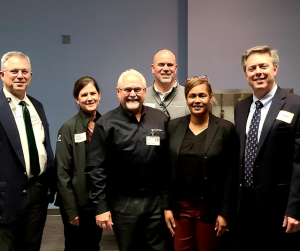 Yesterday, December 6th, we had some fun in the park as TidalHealth sponsored the SACC's Business After Hours at the Arthur W. Perdue Stadium from 5-7 PM.
Kicking off the holiday season, over fifty chamber members and local business leaders gathered in the executive suite of the stadium, enjoying beverages, appetizers and networking.
Dr. Steve Leonard, CEO, and the executive staff were on hand to answer questions about TidalHealth and the latest news on the pandemic. Dr. Leonard updated attendees on the new Covid variant and urged everyone to get the booster shot. "It has been an exceedingly difficult 18 months, but now more than ever we must listen to what the doctor says."
He also stressed that TidalHealth has professionals that can help with community health and mental wellbeing, which when treated early can prevent other conditions.
TidalHealth is proud of serving their community for over 123 years. Anchored by two award-winning hospitals: TidalHealth Peninsula Regional and TidalHealth Nanticoke, they also count with an expansive physician network of more than 250 primary and specialty care providers in twenty-two specialties across 29 locations.
The evening wrapped up with gift-giving, including with the raffling of TidalHeath swag items.
The SACC also held the traditional 50/50 raffle, with proceeds going towards a scholarship for students at Wor-Wic Community College.
Congratulations to Chuck Campbell with Davis Strategic Development for winning the 50/50!