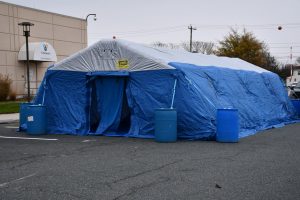 In its continuing effort to protect the health and well-being of the local community, and as COVID-19 positive rates continue to rise and impact bed availability at all Delmarva hospitals, TidalHealth Peninsula Regional has again erected an inflatable portable hospital on its campus. The unit, which was first constructed in March of this year and was in place for four months, is self-contained and features heat and air conditioning. It will again be stocked with basic medical supplies and 10 patient care cots. TidalHealth Peninsula Regional intends to use the regional medical station, as needed, for patient overflow and surge control for a variety of conditions including the seasonal flu and COVID-19. The move is strictly precautionary and proactive as the hospital is currently not at capacity.
"The mobile regional medical station adjacent to the emergency department (ED) allows us to maintain a state of readiness in the event our region experiences the need to expand either ED or inpatient bed capacity. Staffing will be in alignment with the
needs of the population we are caring for," said Sarah Arnett, DNP, Vice President of Patient Care Services and Chief Nursing Officer at TidalHealth Peninsula Regional.
The portable hospital tent is wind rated up to 70 miles per hour. It can be easily dismantled and reconstructed in about 45 minutes. As a regional asset, it is available to other hospitals and agencies on the Eastern Shore, and could be activated as a mobile hospital in response to any emergency or mass casualty event. It is the only inflatable regional medical station in the region.