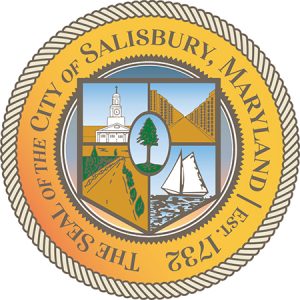 Salisbury – Field Operations Director Tom Stevenson has announced that he will retire shortly after the new year, bringing an end to his 32-year career with the City of Salisbury. In his time with the City, Tom has served in numerous capacities, including 5 years as City Administrator.
"Tom will be sorely missed for so many reasons," said City Administrator and Acting Mayor, Julia Glanz.  "He is well respected for his work ethic, beloved for his personality, and counted upon as a trusted advisor.  The breadth and depth of his knowledge is truly remarkable."
Tom began his career with the City in September of 1988, as a Construction Foreman. When the City later needed a Building Inspector, Tom's experience in the field made him an ideal choice for the position. Ever eager to expand his knowledge base and take on new challenges, Tom became licensed in the areas of Fire Protection, Family Dwellings, and Commercial Buildings. He was promoted to Plans Examiner, and was considered a tremendous asset by the Director of the Department of Building Housing and Zoning.
In 2008 Tom was once again promoted – this time to Director of the newly-formed Department of Neighborhood Services and Code Compliance. It was a position he would occupy for only a brief period of time, as he would soon be called upon by Mayor Jim Ireton to serve as Acting City Administrator. His diligence and commitment to citizen service shone brightly in this new capacity, as did his knowledge and understanding of the inner workings of municipal government. He oversaw the hiring of Assistant City Administrator Glanz, and managed the crucial early stages of some of the City's most important projects, including the Main St. Master Plan and Riverwalk Amphitheater, among others.
In 2017, the City implemented structural changes, leading to the creation of several new departments which had previously been centralized. The Department of Field Operations would focus on parks, streets and sidewalks, trash and recycling, fleet maintenance, and other tasks related to physical infrastructure. Tom saw a unique opportunity to bring all of his knowledge to bear to get the newly-formed department off the ground. He was appointed Director of Field Operations, and has held the position ever since, seeing the City through multiple storm events, massive infrastructure projects, and a significant increase in events throughout the City, including the Salisbury Marathon and National Folk Festival.
City Administrator Glanz noted the impact Tom has had on her, personally, stating, "When I was first hired as Assistant City Administrator, Salisbury was near the beginning of its renaissance. The pace of everything kept accelerating, and the number of projects and events seemed to be expanding at an exponential rate. I was in awe of Tom's ability to keep everything in focus. No matter how hectic things became, Tom had a steady hand on the wheel, always.
"The more I got to know him, the more I came to lean on him for his seemingly endless knowledge of all things municipal. I have considered him a mentor since those days, and, since becoming City Administrator myself, I have continued to depend upon him as a trusted advisor, and as a friend. I will miss him so very much, as will the rest of the City family."
"Tom Stevenson knows Salisbury better than anyone I know," said former Mayor Jim Ireton.  "His ability to serve elected officials and the public so well is what led him to become City Administrator.  His work ethic and drive to change Salisbury for the better is an asset that will be sorely missing when he retires. He came to work every morning convinced he could find a way to get the will of city leaders done while maintaining the professional standing he had with members of the public.  He was quick with a 'Good job, Mayor,' or, if things weren't going according to plan, 'Well that didn't work, but I think we can try this.'  I am indebted to him as a city colleague and as a friend, and Salisbury is indebted to him for the years of dedicated service he rendered.  Way to go, Tom!"
Mayor Jake Day, currently on deployment with the Army National Guard in Djibouti, Africa, lauded Stevenson for his tremendous impact upon the City of Salisbury.
"There will be a void in our family when I come home," said the Mayor.  "Tom is a presence that has only made our City an ever-better place. Salisbury is better cared for, better organized, more efficient, more united and more focused than we would be without Tom's leadership. I don't yet know how I'll process the retirement of my friend, but I support him and I know it will give him time to do far more important things with his family. However, the man who was Director of multiple departments, City Administrator, mentor, sounding board, calming influence, go-getter and Chief Getting-Things-Done Officer over the 11 years that I have been involved in our government, will be deeply, immeasurably missed. Thank you, Tom Stevenson."
When asked to sum up his career, Tom displayed his characteristic humility, saying, "During my three plus decades with the City, I have always considered it a privilege and an honor to work for the town where I was born and raised. When I walk out of the office for the final time, I will take away a plethora of life experience, fond memories and amusing stories. I want to take this opportunity to thank all of the people I've worked alongside over these many years for their helpfulness, patience and willingness to share their knowledge and expertise. I also want to thank my family for supporting me and most importantly, I want to thank the citizens for allowing me to serve them. Public Service can be difficult at times, but the benefits always win out in the end.
"To my friends and colleagues that I leave behind: To quote Abraham Lincoln "Whatever you are, be a good one". So whatever your role is with the City, do it well!"
The City of Salisbury will begin accepting applications for Director of Field Operations within the coming days. The position will be listed on the City's website, at www.salisbury.md/careers, as well as the City's Facebook page, at www.facebook.com/CityofSBY.