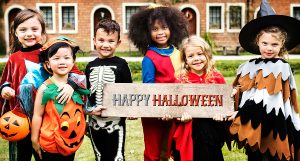 SALISBURY, MD – It's that time of year again, and the City of Salisbury is gearing up for a memorable, safe Halloween for 2021. Trick-or-treat times within City limits are 5:00 p.m. – 8:00 p.m. on Sunday, October 31.
Halloween is fun for ghosts, goblins, and people of all ages—but the most important thing on Halloween is the safety of your family.  Mayor Day and the Salisbury Police Department have a few tips to ensure that this Halloween is a memorable and SAFE evening for everyone:
MOTORISTS: If you drive in or around Salisbury on the night of the 31st, please be alert and on the lookout for the additional pedestrians that trick-or-treating brings to the streets.  Please make an extra effort to drive safely near pedestrians and watch for people running from house-to-house in neighborhoods. If you remember one thing, let it be this: SLOW DOWN.
PEDESTRIANS: If you plan on trick-or-treating this year, please watch for cars, and make sure to cross streets at designated crosswalks when they are available. Stay on the sidewalk whenever there is one available. Also, please make sure that your group is wearing bright or reflective clothing, and at least one grown-up is carrying a flashlight or other light source. If possible, provide your child with an LED pin, glow stick or other luminescent product to make them more visible.
When trick-or-treating, never enter a stranger's house, and never accept a ride from anyone without your parents' permission. Only accept unopened, store-bought treats, and inspect all of your treats in a well-lit area at home before eating them.
To minimize the risk of exposure to COVID-19, citizens are urged to follow previously-established public safety guidelines.
Wear a mask
Try to maintain at least 6 feet of distance between you/your family and other trick-or-treaters
Carry hand sanitizer and utilize it frequently
If you're planning to give out candy, consider placing a bowl at the end of your front walkway, or in another spot that is convenient for trick-or-treaters to reach.
In response to the increased volume of foot traffic in the city on Halloween night, The Salisbury Police Department and Salisbury Fire Department will maintain an increased presence, with a focus on ensuring the safety of pedestrians walking in dimly-lit areas. As always, in the event of an emergency, please dial 911.
If trick-or-treating isn't your speed, check out one of these safe, family-friendly options for October fun!
Treat Street
Sunday, October 31, 5:00 p.m.
Location: Parking Lot 1 and Parking Garage, Downtown Salisbury
Treat Street is a free event that provides an alternative to going door-to-door on Halloween. Participation in this event is limited to children ages 11 and younger. To participate, children must wear a costume, bring their own trick-or-treat bag, and be accompanied by an adult. To ensure that the grown-ups don't miss out, parents/adults are also welcome to dress up in any costume that is appropriate for young children.
This is a free event; however, to ensure that everyone takes only their fair share, participants must register on-site to participate. Non-candy treats will be provided to children with food allergies. To receive only non-candy treats, parents must request a non-candy badge at registration.
Salisbury Zoo's Not-So-Scary Halloween Happening
Sat, October 23, 9:00 a.m. – 12:00 p.m.
Location: Salisbury Zoo
This Halloween event is geared for children 10 and under who may not want the scary parts of a Halloween event, however all ages are welcome. Children will trick-or-treat throughout the Zoo, participate in Halloween games, enjoy a hay bale maze, and have the opportunity to compete in a costume contest! There will be additional charge for food and some games. Remember to bring your candy buckets. For more information call 410-546- 3440. Tickets will go on sale September 20 in the Ocelot Spot Gift Shop between 10am and 3:30pm or can be purchased at the gate on the date of the event.
For more details, visit https://www.eventcrazy.com/Salisbury-MD/events/details/510409-Halloween-Happenings
Spooktacular Halloween – A Sensory Friendly Event at the Salisbury Zoo
Saturday, October 9, 5:00 p.m.
Location: Salisbury Zoo
Join us for games on the lawn and the trick-or-treat trail through the Zoo! Tickets are $8 per child, which includes 8 game coupons and 1 adult ticket. Please preregister at www.givesignup.org/TicketEvent/SpooktacularHalloween
3rd Friday
October 15, 5:00 p.m. – 8:00 p.m.
Location: Main Street, Downtown Salisbury
This month's 3rd Friday event features all things Halloween! Check out the full list here: https://stayhappening.com/e/third-friday-E2ISTVGA9Y1
Movies on the River – Halloween Double Feature
Friday, October 15, 7:00 p.m.
Location: Pohanka Riverwalk Amphitheater
7:00 PM: Spider-Man: Into the Spider-Verse (2018)
9:00 PM Guardians of the Galaxy (2014)
Parking is available in the La Quinta Hotel parking lot. BYO chairs, blankets, and snacks!
The Mudhud Clay Art Studio's Halloween Block Party
Saturday, Oct 23, 7:00 p.m. – Midnight
Location: The Mudhud, 229 W Main Street
Join the Mudhud for a costume contest with prizes, activities, complimentary candy, and refreshments. Featuring music by DJ Stash, and 20% off Paint Your Own Pottery! More details are available on the Mudhud's website: https://www.rowdygalmudhud.com/product/halloween-block-party/597
7th Annual Halloween Zombie Infested 5k Dash and 1-Mile Zombie Walk
Saturday, October 16, 11:00 a.m. – 2:00 p.m.
Location: The campus of Salisbury University, 1101 Camden Ave.
Open to the entire community, rain or shine, Salisbury University Student United Way presents the 7th Annual Zombie-Infested Halloween 5K Dash & 1 Mile Walk.  100% of proceeds benefit United Way of the Lower Eastern Shore!
Put on your best racing shoes and run our officially-timed & wildly fun "ZOMBIE-INFESTED" 5K or go on a 1-Mile Zombie Walk.  (Note: Zombies will NOT chase you or interrupt your running & running time). After the race, enjoy the award ceremony and after party featuring a DJ, costume contest, tasty treats, zombie photo-ops, games, prizes and more!
To sign up, and to learn more about SU Student United Way's mission, visit https://runsignup.com/Race/MD/Salisbury/SUSUW5K