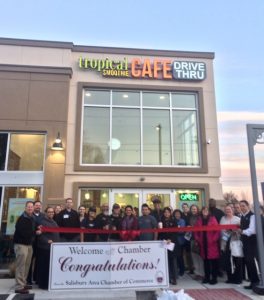 (Salisbury, Md., January 16, 2019) – On January 15, 2019, Tropical Smoothie Café, a national franchise, bought a taste of the tropics to the shore. Tropical Smoothie Café is seen in multiple locations, however, this is the on the Eastern Shore – making it a celebration and an exciting new restaurant for locals to enjoy.
Owner and Operator of the café, Sam Mehta, expressed his passion for a healthier lifestyle and what inspired him to bring Tropical Smoothie Café to Salisbury.
"I have been a vegetarian all my life and last year I became vegan. Can you imagine being a vegan? No dairy products, no animal products, nothing – so when I was browsing on Facebook I stumbled upon this wonderful franchise business and I applied for it and the rest is history," Mehta said. "Needless to say, everything on this menu can be customized as vegetarian or vegan and that was my inspiration."
Mehta continued to express how this franchise is beneficial and a wanted food chain by the public. He hopes that this style of healthy living will bring more people and, as he said, "Keep him busy."
"I have been a bicyclist for a few years and a Sea Gull Century rider for the past five years and this is my healthy option – that is why I bought this to the shore. I have heard from a lot of people that they have been looking for something like this because they want to also introduce a healthy lifestyle in their own diet."
Although the title may mislead the customer into thinking that this Tropical Smoothie Café only sells smoothies, Mehta quickly explained that the menu has much more to offer.
"We have the flatbread sandwiches, wraps and quesadillas. Quesadillas were introduced about a year ago and it has been a hit so it is going to stay up for a long time…we also have a kids menu – that's a 12 ounce smoothie and also we have kids wraps and sandwiches."
Tropical Smoothie Café offers more features such as catering and a rewards program for smoothie-lovers. The program is a downloadable app for smartphones that tracks how much you spend at the café – every $55 spent rewards the customer $5 back.
Sam Mehta, his wife, Hamali Mehta, and their team of supporters surrounded them as they cut the ribbon to new beginnings and celebration to bringing a new business to the Shore.
The café is located on 1305 S. Salisbury Boulevard and is open every day of the week.
For more information contact the café at 410-219-5400 or visit their Facebook page at https://www.facebook.com/tscsalisburymd/
###