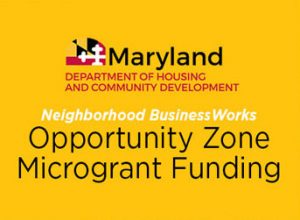 SALISBURY, MD – Two City of Salisbury businesses were recipients of the Maryland Department of Housing and Community Development's Neighborhood BusinessWorks Opportunity Zone grant program.
This round of grants marked the second round of awards that were disbursed by the State. Of the seven total awardees across the state, City of Salisbury's Quality Staffing Services, Inc and Mason-Dixon Machining, Inc were two. Mogan's Oyster House of Salisbury was awarded funds in the first round in January 2021.
Quality Staffing Services received $49,600 from the grant fund and their plans for expansion include a satellite training center for soldering at K&L Microwave. The need for skilled solderers has grown exponentially, and QSS, along with other partners has stepped up to fill that need. Maria Waller of QSS says "Before training, we'll vet them and make sure they meet the company's requirements and then they will be interviewed by the company looking to hire. If they pass the training, these students will have a marketable trade that will provide career opportunities and growth in the coming years." The training is free to eligible applicants and the first class could be held as early as October. Interested participants should visit www.easternshorejobs.com for more information.
Mason-Dixon Machining was the second Salisbury-based recipient of the expansion grant and received $50,000 to fund their growth plans. Jay Parker, owner of Mason-Dixon Machining, plans to use the grant to cover training opportunities for his employees and making continued improvements to the business.  Together, Mr. Parker hopes these initiatives will allow Mason-Dixon continued growth within the RF and microwave filter industry, which is the primary focus, along with potential diversification into new markets.
"Governor Hogan has proven his commitment to the growth and prosperity of Salisbury and Wicomico County time and time again," said Mayor Day. "From major infrastructure projects, to grants for small businesses, to co-chairing the massive economic boon that is the National Folk Festival in Salisbury, the level of support we have seen under Governor Hogan's leadership has been crucial in allowing us to realize some of our biggest victories. I am grateful that a portion of this latest round of Opportunity Zone grants will benefit two businesses right here in our community, and I offer my congratulations to Mason-Dixon Machining and Quality Staffing Services."