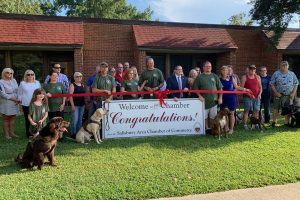 By Cathy Diekmann
Salisbury Area Chamber representatives, and U. S. Kennels, Inc.'s volunteers, Board members and program participants (the two- and four-legged types) gathered on August 20, 2019 for a ribbon cutting celebration.
U.S. Kennels, Inc. is a 501(c)3, non-profit organization that provides trained service dogs and related supplies to combat wounded Veterans at no cost to the Vet. Here, Vets (also known as program participants) who suffer from Post-Traumatic Stress Disorder, Traumatic Brain Injuries and/or related disabilities receive vital support and understanding to improve their quality of life.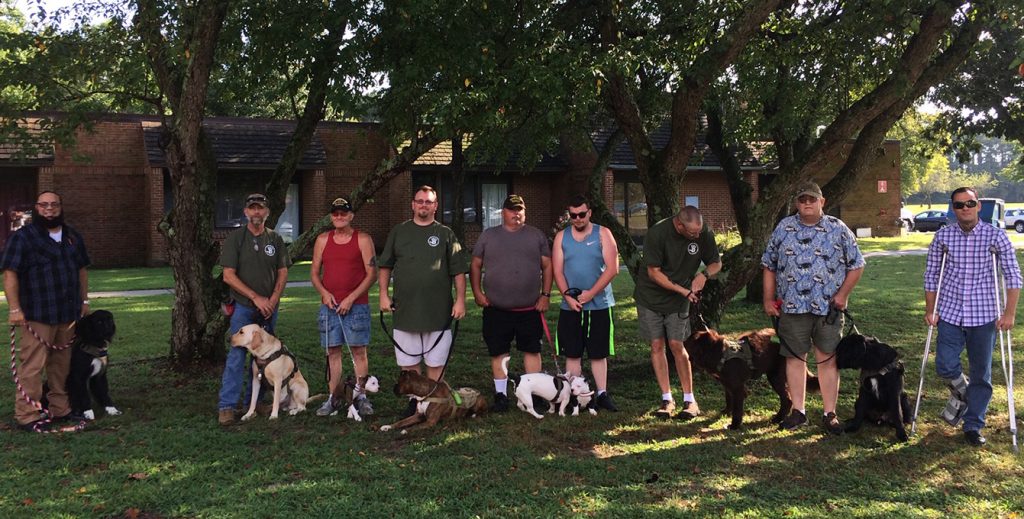 The mission: Saving Veterans One Paw at a Time. While providing crucial support to Veterans, U. S. Kennels, Inc. also saves the lives of shelter dogs that are trained in advanced obedience and medical tasks.
"We match every veteran with a dog that fits their personality and disability, says Chris Hardy, U. S. Kennels, Inc.'s Executive Director and Founder.  "It's a win-win situation. Veterans receive medical assistance and healing power from their new canine friend.  Rescued dogs get a new friend and purpose in life."
The 4,000 square foot Training Center, located at 926 Snow Hill Road Building #900 (on the Holly Center Campus in Salisbury) is equipped with a variety of Task Rooms – a mock kitchen, hospital room and restaurant. This is where Veterans and their dogs are trained together to carry out every-day life tasks such as opening drawers, getting into a wheelchair or staying calm in noisy restaurant.
The organization still needs simple bedroom furniture to equip a Task Room specifically for the purpose of dealing with PTSD-related nightmares. Explains Hardy, "Here, Vet will role play cues that the s/he is having a nightmare. The dog is trained to wake up the Vet and then turn on the light. Once that happens, the dog can comfort the Vet."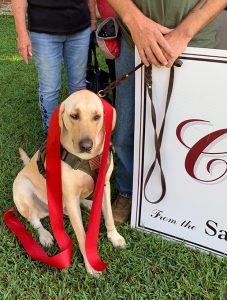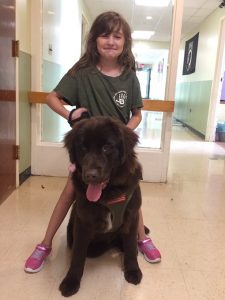 The organization is financed entirely by grants and donations. "Most of our needs are quite simple yet still so important to support our program participants," states Board President, Mirela Hardy.  Their current wish list includes towels, blankets and cleaning supplies for the service dogs. An $89 donation covers the cost of a Day Bag, a quality backpack filled with supplies the Vet and service dog need for daily outings – a leash, service dog vest, dog toys, treats and much more.  Larger items such as a washer and dryer are needed to replace the malfunctioning ones they currently use to wash loads of the dogs' dirty towels. They are also seeking some skilled volunteers or a business partner that could assist with completing their interior paint job.
U.S. Kennels received a $5,000 grant from the Community Foundation of the Eastern Shore (CFES) to outfit a grooming station so service dogs can be bathed and groomed at no cost to the Vet. Notes CFES Program Director Heather Mahler, "I am so proud of the U.S. Kennels team. CFES has worked closely with Chris and Mirela from the organization's inception. I look forward to seeing them grow and succeed."
To learn more about U. S. Kennels, donate supplies or support their mission, call (410) 251-3714 or check at their website www.uskennelsinc.org