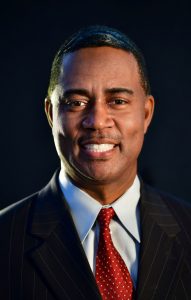 PRINCESS ANNE, Md. – March 23, 2021 – Dr. Robert C. Mock Jr., a senior University of Maryland Eastern Shore administrator, is among 50 leaders from across the state who will participate in a professional development program for 2021 known as Leadership Maryland.
The group will take part in a series of "hands-on learning" activities "focused on the state's most vital social, economic and environmental issues."
The 2021 class was originally selected a year ago but the program was postponed one year due to the COVID-19 pandemic. To ensure participants' safety, Leadership Maryland said it has designed "a hybrid of virtual programming and in-person sessions, if and when possible."
Mock joined President Heidi M. Anderson's administration in December 2018 to serve as chief of staff and as a member of her senior leadership team.  In 2019, Anderson became the first UMES president to complete the Leadership Maryland program since its inception in 1993.
The 2021 edition runs from April to December, and includes five, two-day sessions focusing on the state's five widely recognized geographic regions.  More than 100 experts representing business, government, education and the non-profit community will serve as panelists and guest speakers, who will address such topics as economic development, education, health and human services, criminal justice, the environment and multi-culturalism/diversity.
Leadership Maryland is open to senior-level executives with significant achievements in either their careers and/or their communities.  Ideal Leadership Maryland members have a desire to learn more about Maryland's most critical issues and a personal commitment to be a force for positive change in their organizations, their communities, and their state.
For more information about Leadership Maryland, please visit www.LeadershipMD.org , call 410-841-2101 or email Info@LeadershipMD.org