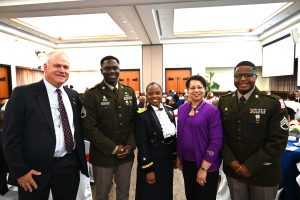 Maryland Veterans Affairs Secretary Anthony Woods to be guest speaker
PRINCESS ANNE, Md. – Major Anthony C. Woods, the Secretary of Veterans Affairs for the State of Maryland, will be the featured guest speaker for this year's Salute to Veterans Gala event co-hosted by the University of Maryland Eastern Shore and the Salisbury Area Chamber of Commerce.
The Wednesday, Nov. 8 event pays tribute to local military veterans and begins at 6 p.m. with a cocktail reception at the Richard A. Henson Center on the UMES campus, followed by dinner at 7 p.m.
Woods, a West Point graduate, previously served in the United States Army as a lieutenant where he served two tours of duty in Iraq and earned a Bronze Star for his service. Woods also serves as an intelligence analyst assigned to the Joint Staff at the Pentagon.
The event will be emceed by current Maryland Secretary of Housing & Community Development and former Salisbury, Maryland Mayor Jake Day.
Proceeds from ticket sales will go to the Silver Star Scholarship Fund to support first-year students who are honorably discharged veterans, a child of a veteran or a child of a service member killed in action.
Individual tickets are $75; corporate sponsorships for a table of eight are $500.
They can be purchased online at: https://app.mobilecause.com/vf/VetUMES2023
You can also reserve a ticket or table by sending a check and making it payable to:
UMES Foundation
c/o Division of Institutional Advancement
11868 Academic Oval
J.T. Williams Hall, Suite 1105
Princess Anne, MD 21853
Questions may be directed to Ms. Chenita Reddick at 410-651-8045 or via email at crreddick@umes.edu.
Anyone unable to attend but interested in supporting the scholarship fund is encouraged to send a tax-deductible contribution to the UMES Foundation through the online portal: https://app.mobilecause.com/vf/VetUMES2023.
Military formal attire is encouraged for service personnel and business attire for other guests.