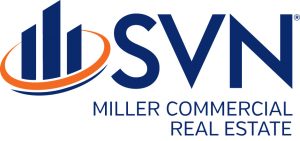 SVN Miller Commercial Real Estate has discovered that key components to a "good hire" are not just found on paper. Character and personality are equally essential when adding to the family culture at SVN. It is with this knowledge, we are proud to announce the recent additions to our team, Tina Bennett, Catie Windsor, Brett Pearre, and Matt Linehan.
Brett and Matt are taking advantage of SVN's collaboration with Salisbury University to offer work experience and on the job training to young professionals in their chosen career path. Brett will be learning to be an Assistant Property Manager and Leasing Assistant. Having acquired his real estate license during college, Bret will have an edge on fellow graduates. Matt is currently working alongside our accounting department to gather information for annual budgets. He will be reviewing fiscal reports and offering input on proposed budgets for SVN's personal portfolio. During the summer, Stephen White, a dual major at S.U. in Marketing and Management, and Tyler Snyder assisted SVN with M&A research, allowing them to strengthen their resume.
As an Administrative Assistant, Catie will be the smiling face aiding clients and tenants as they visit our office or efficiently directing callers to meet their current need.  New to the real estate and property management industry, Catie is excited to absorb the knowledge and expertise SVN Miller exudes. She will be involved in property management, as well as offering clerical support to the Advisor's and their teams. Catie lives in Salisbury with her fiancé and their daughter. As a family they indulge in all the benefits of Shore living from beach days on Assateague to picking crabs from the Chesapeake Bay.
Tina brings her knowledge and expertise from 20+ years in Accounting to SVN. She has been tasked with handling the day to day accounting needs of the Property Management division including accounts receivable and payable. A Delaware native, Tina lives in Laurel, DE with her husband and two children. Outside of the office, you can find Tina spending time with her family working in their yard, attending the local dirt track races, and visiting area attractions and festivals with her granddaughter.
For details about career opportunities with SVN Miller, contact Rick Tilghman at 410-543-2440 or Rick.Tilghman@svn.com.
SVN – Miller Commercial Real Estate, with offices in Salisbury, MD, Easton, MD, and Seaford, DE is a financial services firm specializing in commercial real estate. We provide advisory, brokerage, consultation, leasing and asset and property management services to clients in the Mid-Atlantic Region. We combine a comprehensive national footprint with local decision making, expertise and market-leading execution. We maintain an unequivocal commitment to our clients and community (#SVNgivesback).
SVN – Miller is an Accrdited Management Organization® (AMO). Our team of dedicated professionals with market-leading knoewledge includes a highly-trained staff of Certified Property Managers® (CPM®), Brokers who hold the prestigious Certified Commercial Investment Member (CCIM) designation, and members of the Society of Industrial and Office Realtors (SIOR).
For information on how to make SVN – Miller Commercial Real Estate the key to your success, contact 410-543-2440 or visit our website www.SVNmiller.com.