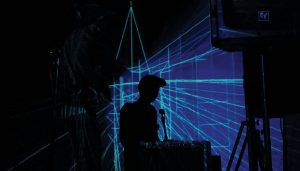 SALISBURY, MD—Salisbury University Art Galleries (SUAG) celebrates underground art and culture on the Eastern Shore during the one-night festival Undercurrents 7-11 p.m. Saturday, April 6, at SU Art Galleries Downtown.
Featured musicians include local bands Swell Fellas and Dirt Woman, and rapper Devon Beck. Also featured are a screening of surfer Simon Hetrick's recent film EXPOSED, with footage by SU alumnus Matt McQueeney, and a reading by Salisbury's inaugural poet laureate, as well as an exhibition by local artists. Food and drink also will be available.
Works by visual artists are being sought for display during the event. Preference will be given to underrepresented local artists and those pushing boundaries of media, form or content. To submit work for consideration email salisburyuartgalleries@gmail.com with "Undercurrents" in the subject line.
Sponsored by SUAG, the Salisbury Area Chamber of Commerce Young Professionals Committee and Salisbury Poetry Week, admission is free and the public is invited. For more information call 410-548-2547 or visit the SUAG website at www.salisbury.edu.