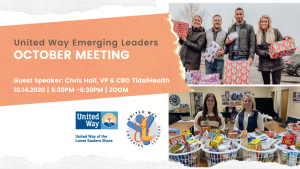 Interested in giving back to your community?
The mission of United Way's Emerging Leaders of the Lower Eastern Shore is to promote and encourage the spirit of philanthropy and volunteerism among young professionals. The affinity group is all about making positive and long-lasting change on the Eastern Shore. Through professional development, educational opportunities, volunteerism and networking events, this Emerging Leaders group has the end goal to change the odds for families and communities by advancing education, housing, employment and health.
Join the Emerging Leaders for their October meeting and learn how you can make a difference in your community. The guest speaker for October is Chris Hall, Vice President & CBO of Tidalhealth, who will be sharing the journey of rebranding a 150-year-old medical system.
In addition to hearing from Chris Hall in October's meeting the group will be discussing fundraising efforts to support our Thanksgiving dinner and Christmas gift programs.
To register for the October meeting and learn more about the United Way of the Eastern Shore's Emerging Leaders group please email info@uwles.org