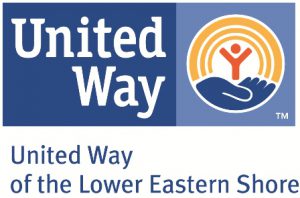 Members of the Salisbury Area Chamber of Commerce were delighted to join United Way of the Lower Eastern Shore (UWLES) on November 9th as they hosted the SACC November Business After Hours and provided our members with an amazing opportunity to network and learn a little more about what UWLES does for our community.
Guests were welcomed by the UWLES team and Pam Gregory, President/CEO, who acknowledged the hard work and dedication of her staff, board members and partners.  "Without them we would not be as successful as we are.  We are in our 79th year of local impact.  We started in Wicomico County, and now serve Dorchester, Somerset, Wicomico and Worcester.  The support we receive from our donors impacts 1 in 3 local neighbors through direct and partner programs. Imagination Library and education supports, resources to build financial stability, programs to empower health and wellness, and capacity building for nonprofits are just a few examples.  Over 43% of households in our communities are ALICE (Asset Limited Income Constrained Employed), struggling to make ends meet each month, and at United Way we invest in partnerships and collaborations to help make our community stronger."
There are many ways to stay engaged with UWLES all year long.  They offer Affinity Groups such as Emerging Leaders, Women United, and Student United Way, who volunteer to support youth and families.  A wide range of volunteer opportunities for 150+ local nonprofits can be found through the Get Connected Volunteer Center at www.shoregetconnected.org.  There are easy and affordable ways to give back through the workplace or individually, with donations of any size making a local difference.  Special events are planned throughout the year, which offer a great opportunity to learn more about United Way's work while having fun.
During the Business After Hours, chamber member Catering by Dinner Express provided a delicious display of appetizers and guests enjoyed libations while they engaged with the UWLES staff.  There were a couple of door prizes and swag items for guests to take with them.    The 50/50 raffle benefitting the SACC Foundation Wor-Wic Scholarship Fund was won by Melissa Geeslin, from Goosehead Insurance, who donated to UWLES to help support their mission.
To learn more about UWLES, visit www.uwles.org