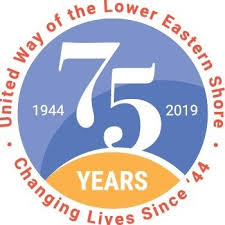 United Way of the Lower Eastern Shore (UWLES) has launched a COVID-19 Resource page and LIVE UNITED Response Fund (www.uwles.org/COVID19) to bring the community together amidst the COVID-19 pandemic which is creating unprecedented challenges throughout society.
UWLES will mobilize these resources to help local nonprofit partners adapt to the rapidly changing needs and constraints they are facing now and in the months to come caused by COVID19. The LIVE UNITED Response Fund received a $10,000 contribution from Delmarva Power, an Exelon Company, to launch the initiative, with additional funding partners also reviewing commitments.
"We are extremely thankful to Delmarva Power and other partners who are moving quickly to step up and help stabilize our community and ask our neighbors to help in any way they can. Coming together as a community is what it means to LIVE UNITED, " shared Pam Gregory, President and CEO of UWLES.
"Nonprofits are experiencing a double whammy with this situation. As providers of critical social service programs, they are facing changing needs and demands for services, but they also have to adapt to meet those needs around the same social distancing and operational restrictions other businesses experience." Gregory added.
Despite overall gains in the national economy over recent years, local nonprofits see increases in demand for their services each year, as 46% of Lower Shore households struggle to make ends meet each month per United Way's ALICE® Report for Maryland. "Despite often working multiple jobs these families barely meet basic needs and without any cushion in their budget the effects of even temporary job losses will be catastrophic for many households." Gregory said.
Further, the COVID-19 pandemic will severely impact nonprofits' ability to effectively maintain fundraising initiatives, such as popular Spring events which have been cancelled or postponed. With limited staff and volunteers, and an increase in service demand, their ability to recover lost revenue is at high risk.
All LIVE UNITED Response fund gifts will be directed to United Way's local nonprofit partners and direct services already approved through the annual Community Impact review process who are impacted by COVID-19, allowing funds to be distributed quickly. "Donors trust us to be good stewards of their dollars and leverage gifts of any size to create maximum impact for critical Health, Education and Financial Stability programs. Focusing these funds to help keep families fed, children secure, and our seniors and vulnerable neighbors well cared for is simply what we need to come together as a community and do." Gregory added.
The fund and resource page are part of a regional effort to help the community support each other during this crisis. In addition to offering ways to give or volunteer, the page also stresses the importance of access to help and reliable information and offers a comprehensive list of reputable local, state and federal resources regarding prevention and wellness, community restrictions and where to access services for families or businesses.
Anyone experiencing a need for resources is directed to call the MD 211 helpline, available 24/7, or call one of several local health hotlines listed if experiencing Coronavirus symptoms (fever, cough, shortness of breath).
Anyone may access the UWLES COVID-19 Resources and LIVE UNITED Respond Fund page at www.uwles.org/COVID19 which will be updated as needed. For additional information and COVID-19 updates, follow UWLES on Facebook @uwles or Instagram @unitedwayles.