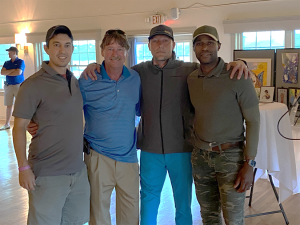 QUANTICO, MD – United Way of the Lower Eastern Shore (UWLES) hosted the 2022 United Way Open at Green Hill Country Club in Quantico, Maryland on Friday, May 6, the agency's second tournament post-pandemic.  21 teams joined UWLES for a fun afternoon at the links and competed for several prize opportunities.  Pohanka of Salisbury offered a free car incentive for a hole in one, which was unclaimed during the day on the links.  Thanks to the support of this year's sponsors and players, over $20,000 was raised to support United Way's direct and funded programs through 41 local nonprofit partners.
The year's event would not have been possible without the support of sponsors and partners: Platinum Sponsors – Holloway Funeral Home, & Regal Rexnord.  Gold Sponsors – Delmarva Power, D'Sharks, presented by Mark Rudnick, Eastern Shore Distributing, TidalHealth, Farmers Bank of Willards, Perdue, Avery Hall Insurance, Hearts & Hands Ending Homelessness, PB Packaging, and PNC Bank.  Silver Sponsors – Rotary Club of Wicomico, Apostle Expert Exteriors, UHY LLP, The Rangers, presented by Dr. Harry Hoffer and UMES. Tee Sponsors – Charles Brown Glass Co., Chesapeake Utilities, Apostle Expert Exteriors, & Dr. Bryan Newton.  Event cochairs Kevin Hayes and John Petito worked with staff, along with several volunteers and partners Green Hill Country Club, Pepsi Bottling Ventures, Tastykake and Eastern Shore Distributors to ensure a successful event.
"It was great to be together at Green Hill again to lift up our community and are thankful for everyone's support," said UWLES President & CEO Pam Gregory, "This is a really fun opportunity to help our Lower Shore neighbors and partners who continue to face challenges coming out of the pandemic."
The day culminated in a presentation of awards with the top grossing team Hearts & Hands Ending Homelessness and the top net team Holloway Funeral Home.  TidalHealth's Roger Follebout and Perdue's John Haday won the men's closest to the pin and Robin Holloway from Holloway Funeral Home won ladies' closest to the pin. UHY's Joe Monar won the putting contest, Jamilia Johnson from UMES won the ladies longest drive, and men's longest drive went to Carl Whyte from HHEH.
Additional photos are posted on the UWLES Facebook page.  For more information about future events or sponsorship opportunities contact Ryan Jackson at UWLES at ryan@uwles.org or 410-742-5143 or visit uwles.org.
About United Way of the Lower Eastern Shore: 
United Way of the Lower Eastern Shore (UWLES), now in its 77th year of local service, harnesses the power of our community to advance health, education and financial stability for all neighbors in Dorchester, Somerset, Wicomico and Worcester counties. UWLES helps empower Lower Shore residents to achieve better health by addressing barriers to care, educational success by reducing the achievement gap between low- and middle-income students, and financial stability by advancing the economic security of families and individuals. UWLES provides direct services, collaborates with local stakeholders, and supports 41 local nonprofits to strengthen the entire community, impacting 1 in every 3 neighbors annually. Through the Get Connected Volunteer Center, UWLES connects over 140 nonprofits with community members who want to get involved.  For more information on United Way or to help make a difference visit: www.uwles.org, www.ShoreGetConnected.org, Facebook@uwles, Instagram@unitedwayles, LinkedIN@uwles or Twitter@UNITEDWAY_LES.