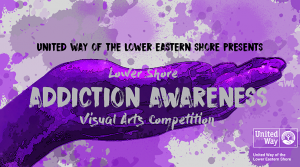 The United Way of the Lower Eastern Shore is once again hosting the Lower Shore Addiction Awareness Visual Arts Competition. Dorchester, Somerset, Wicomico and Worcester County students in grades 6 through 12 may submit one piece of fine art in any media including painting, drawing, collage, mixed media, photography, sculpture or video. Works must have opioid or other drug and/or alcohol addiction awareness as the subject matter. An emphasis on hope for/maintaining recovery is encouraged. Submissions must be no larger than 28 x 28 inches and weigh no more than 10 pounds. Video submissions must be provided on a USB. Prizes will be awarded for 1st, 2nd, and 3rd places winners in Middle and High School categories in each of the four counties. New this year we will be awarding a Best in Show, a top prize across all grades and counties.
Entries are due to by 5 pm on April 23 and should be delivered to the United Way at 803 N. Salisbury Blvd., Suite 2100, Salisbury. Each entry must be accompanied by a completed entry & release form which can be found, along with the full list of rules, at www.uwles.org/art. This competition is made possible by support from the Maryland Opioid Operational Command Center and the Wicomico, Worcester, Somerset, and Dorchester County Health Departments.
Submissions from the 2020 competition can be seen online at www.uwles.org/art and are available for display at community events. If you are interested in hosting the 2020 display, or for questions about the 2021 competition contact Claire Otterbein at Claire@uwles.org or call 410-742-5143.
About United Way of the Lower Eastern Shore:
United Way of the Lower Eastern Shore has been serving all communities in Dorchester, Somerset, Wicomico and Worcester counties for over 75 years. United Way helps Lower Shore residents obtain Educational Success by reducing the achievement gap between low- and middle-income students, Financial Stability by advancing the economic security of families and individuals, and Good Health by improving access to and awareness of local health and wellness services. United Way collaborates with organizations and stakeholders to strengthen our community and provides support for about 80 programs and community initiatives annually, impacting 1 in every 3 individuals on the Lower Shore. UWLES is also the volunteer center for the Lower Shore, connecting over 140 nonprofits with thousands of community members who want to get involved. For more information on United Way or to help make a difference, visit www.uwles.org, www.ShoreGetConnected.org, or on Facebook @uwles and Instagram @unitedwayles.