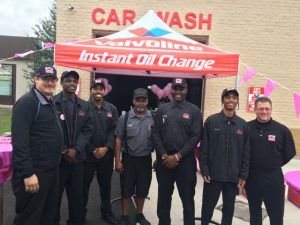 Valvoline Instant Oil Change, located at 1001 N. Salisbury Blvd. in Salisbury, recently hosted a Salisbury Area Chamber of Commerce Business After Hours. Guests were treated to delicious wraps, salad and baklava from Riverwalk Café and a thoughtful assortment of door prizes that included gift cards from Rise Up Coffee and Backstreet Grill. "We may be a national chain, but we always believe in supporting local businesses wherever our shops are located," affirmed Cindy Hudson, Director of Marketing and Sales for Valvoline Instant Oil Change (VIOC).
Door prizes also included baskets that holding a variety of VIOC discounts and coupons and a pair of pink windshield wipers, which they sell during the month of October to raise funds and awareness for the National Breast Cancer Foundation (NCBF) . Now in its sixth year, the campaign has raised more than $65,000 for the NCBF. The blades come in both traditional black with a small pink ribbon and full pink wipers for those who want to make the big statement. They come in a multitude of sizes, to fit 98% of all cars, trucks and SUVs manufactured after 2003.
Guests also had an opportunity to meet the service team at the Salisbury Valvoline Instant Oil Change. What an impressive group! They clearly take pride in their work and want the job done 100%, 100% of the time. Manager Billy Cropper, explained, "We have a rigorous training program. We do everything in our power to make sure every employee knows how to do his or her job accurately and efficiently every time." VIOC even holds service competitions in which teams compete against each other through a series of regional competitions, from which winners advance to the national competition. Two years ago, Cropper led a team that placed second in the nation.
The old adage "Time is money," really rings true at Valvoline Instant Oil Change. Customers can receive a full-service oil change (including a tire pressure check, air filter, fluids and battery check plus more) in about 15 minutes without even leaving the car. A customer service rep is constantly communicating with the car owner about what the service team is doing to the vehicle and why. Repeat customers can benefit from pre-set preferences such a specified grade of Valvoline oil or limited additional services. The team members "Up Top" – on the vehicle level, are also constantly communicating with the team member "Down Bottom," who is working on a lower level, underneath the car, exchanging oil filters, emptying old oil and more. This team member triple checks his or her actions to ensure no silly but potentially costly mistakes are made.
During the Business After Hours, guests had a rare chance to go "Down Bottom" and check out what goes on there. The service area was immaculate and incredibly orderly! A team member by the name of Steffen, clearly took his job seriously, moving deftly from place to place as he serviced a vehicle and wiping down his tools after each use. "I love my job. Anything I do, I want to do it the best I can."
Valvoline Instant Oil Change also provides professional fleet management for businesses with fleets with 2 or more cars or trucks. They are Super Pro-10 Certified with an ASE accredited training process offering a variety of plans that can be customized to your specific needs and price point. For more information regarding Fleet Management deals for Chamber Members, contact Paul Bartholomew at pbartholomex@vioc.net. For information about Chamber discounts at the Salisbury Valvoline Instant Oil change, call Billy Cropper at 410-548-2004