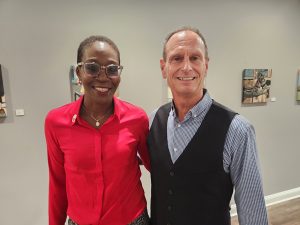 The Salisbury Area Chamber of Commerce's February Business After Hours networking event was hosted by Vehicles For Change – Delmarva on Thursday, February 9, 2023.
Marty Schwartz, President at VFC welcomed and thanked the robust crowd for supporting this project.
"We launched this program back in 1999. We are really excited to be in Salisbury and the community has been very welcoming, but I do have to recognize Sandy Fitgerald-Angello for helping us get to where we are. A little over 4 years ago, a group of Leadership Maryland came to tour our facility in Halethorpe, MD and at that time we were talking about putting new VFC across the state of Maryland. One of members said… you must go talk to Sandy and Mike Dunn down in Salisbury because they are looking for these types of programs and Sandy needs technicians. It took of us a little over 4 years, and with their help we brought this program to Salisbury. Also special thanks to the Lower Shore Workforce Alliance who helped fund the project, along with the MD Department of Labor. To give you a little more background we take donated cars, and we repair them and we provide them to families so that they can improve their lives and drive themselves out of poverty. If you know someone that has car that is sitting around, talk about our program, I can guarantee it will give them a great sense of pride of what they did and how they have helped a needed family. In 2015 we also launched the Full Circle Auto Repair Training Center, in this facility we run a 4-month paid internship. While our students are here, they get paid to get from $9–$11.50 per hour to train and prepare them to take the ASE exams and get certified. You have heard us talk about the re-entry program, but not all our students come out of incarceration, we do give opportunities to other individuals that need it. I would like to invite you to join us in the room next door to check out our new virtual reality auto mechanic training program, which is one of the only one in the country that trains students using virtual reality. We are looking into putting this into high schools and community colleges, all around the county, in the next five years."
Shawna Kearsley, Program Director at VFC Delmarva, wanted to recognize their partners Pohanka Automotive, Greater Salisbury Committee, Wor-Wic Community College, Salisbury Wicomico Economic Development Office, the Salisbury Area Chamber of Commerce and Lower Shore Work Force for their support in making this dream come true. "Thanks for joining us. Check out Wor-Wic Community College's truck driving simulator outside. We are thrilled to let you experience our virtual reality, where you can learn how to change your tires and brakes! I do want to take this opportunity to thank all present that are constantly supporting us."
Vehicles For Changes (VFC) is a nonprofit organization that offers financial stability for families through their car donation and reentry internship programs. VFC receives 99 percent of its car donations from the public and repairs them in house so that they meet their quality standards. Once repaired, eligible families can obtain the vehicle for little as $950. New car owners are provided a 12-month loan, which allows them to pay for the car over the course of time and allows them to establish credit. The program has awarded nearly 8,000 cars to families, giving them access to higher-paying jobs, more flexibility to work overtime, and shorter commutes which translates to more time with their families.
In 2015, VFC launched Full Circle Auto Repair Training Program, a paid internship program developed to provide auto mechanic training to individuals who have recently been released from prison or are of low income and eager to learn a trade that can be a steppingstone for a great career. To date, more than two hundred paid interns have completed the program, and 100% of graduates have founds jobs.
Appetizers were provided by chamber member Taylors BBQ, as guests enjoyed of a variety of Mocktails and wine spirits. Door prizes included a healthy food fryer, a flower arrangement, an Italian dinner basket, and a $30 gift certificate card for Shattis.
For more information on Vehicles For Change visit www.vehiclesforchange.org or call 443-449-3005