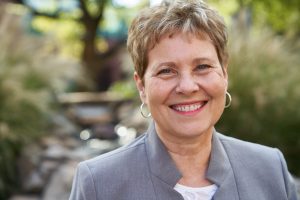 January 15, 2020 – Salisbury, Md. – Veronique Diriker, Ph.D., CFRE has joined the Community Foundation of the Eastern Shore as Chief Strategy Officer. Veronique will lead the Foundation's strategic planning and implementation with a focus on its continued growth, impact, and effectiveness.
"The Community Foundation has a longstanding history of leadership and expertise in philanthropy, and we ensure this on the ground level by developing a team that is cutting-edge in their respective fields" says Erica Joseph, CFES President. "Veronique's extensive knowledge and skill set makes her a natural addition to our team as we build for the future."
Veronique's professional experience includes nonprofit management & leadership, university development, nonprofit fundraising, public policy analysis & consulting, event planning, program development, higher education teaching, outcomes assessment & program evaluation, and community outreach.
"It is an honor to join an organization that has made such a profound impact on the Lower Shore, its residents, and its non-profit sector," says Diriker. "I look forward to working closely with our highly competent staff, engaged volunteers, and dedicated partners, so that we can continue to strengthen our community."
Salisbury became home to Veronique more than 30 years ago when she and her husband, Memo, relocated from Boston. She is a long-time donor, friend, and supporter of the Foundation. She enjoys spending time with her beloved dog Seamus and using her love of art as a strategy for encouraging philanthropy.
About the Community Foundation: As leaders, grant makers, and stewards of philanthropy, the Community Foundation of the Eastern Shore connects people who care to causes that matter for the common good of the Lower Eastern Shore. We are a 501c3 nonprofit with an inspiring history of fostering charitable endeavors, and have provided $84 million in grants and scholarships to the local community since 1984. We collaborate with individuals, families, and businesses to match their charitable interests with community needs and strengthen local nonprofits through grants and resources. We are devoted to improving our regional community and believe in the power of philanthropy.
For information contact: Victoria Kent, Marketing Officer | 410-742-9911 |vkent@CFES.org