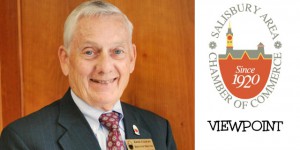 The Salisbury Area Chamber of Commerce is proud of its rich heritage and history. Symbolic of that history and heritage is the SACC Crest announcing our formation in 1920.
Several months ago, we asked Chamber and Board member Dr. James L. McNaughton of AHPharma, Inc. here in Salisbury to construct our Crest using his new 3-D Imaging Printer. Dr. McNaughton graciously agreed to do so and after several prototypes, finalized the SACC Crest as shown in the photo with this article.
We became aware of Dr. McNaughton's 3-D printer after he demonstrated to the Chamber an instrument he invented and developed called a "Biofilm Imaging Monitor" used for post-sanitation quality monitoring, particularly used for food safety sanitation control. 3-D printing is a new and exciting technology that uses either plastic or metal additive fabrication, allowing for expedient and cost-efficient product development, particularly for small businesses, patent developers and individual inventors.
AHPharma, Inc. hopes that this technology will be used throughout the local business community to develop important skilled jobs. The company believes this comes as a great service to the local economy, due to the fact that inventors and small businesses are usually inhibited from unique product development due to the potential of lost costs associated with expensive plastic extrusion mold development and prototype construction. Having a working model from 3-D printing also allows small businesses and individuals to bring the model to potential investors which could lead to much-needed capital to move the products from the development stage to the manufacturing stage.
Once the prototype SACC Crest was complete, we asked  the leadership of the Salisbury Arts Community and those involved with the highly successful "Third Friday Committee" of downtown Salisbury for the name of an individual that could professionally hand paint in great detail, our Crest. That individual was Diana Mosteller. Diana has a BFA degree from Salisbury University and several years of experience in designing, preparing, and creating marketing materials and print advertisement. Diana also was the curator of the CCART Art Show in downtown Salisbury in 2012. The Chamber commissioned Diana to do the hand painting. Needless to say, the picture is worth a thousand words-the beautiful job Diana did and the hours of time she volunteered to do the painting.
The Salisbury Area Chamber of Commerce is extremely appreciative of the time and talents of Dr. McNaughton and Diana Mosteller and we felt compelled to convey our appreciation with the unveiling of the SACC Crest with this article in our Business Journal. The Chamber will display our new Crest at all major Chamber functions in the future and on future Chamber publications and our website. You can contact Dr. McNaughton at www.ahpharma.com for more information on 3-D printing and Diana Mosteller about the arts at http://dianamarieartwork.carbonmade.com/