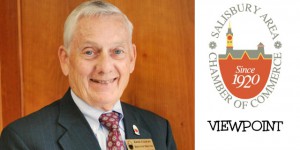 Viewpoint
March 2014 Edition-Business Journal
Written by Ernie Colburn, CEO-SACC
Chamber Business Journal goes on line:  Effective with the March 2014 edition of the "Business Journal" we're moving to an online format. The March printed version will be the last.  After nearly 17 years of publication, the Chamber's Executive Committee has decided it's more economically feasible to create and maintain an online version. The cost of printing and distribution monthly has increased considerably and with the shift in the information world that we want things "now" instead of later through laptops, tablets, and smartphones, the Executive Committee felt this was the best way moving forward. The Chamber thanks Bryant and Carol Richardson of Morningstar Publications for their support and dedication over the past 17 years as publishers of the Business Journal for the Chamber.
Under the new online format, you will still be able to obtain the same news as in the printed version and MORE! With the online version, we'll post updates daily and weekly so the Journal will be "fluid" instead of a printed monthly fixed publication. Primarily, our key categories will be Business, Chamber, Community, and Government. Under the "Business" category we'll cover information from our Business & Economic Development Division that includes business affairs, economic development, workforce development, and business sectors of agriculture, tourism, healthcare, manufacturing, retail, business services, energy and utilities, technology and communication, marketing and public relations as well as human resources. Under the "Chamber" category we'll cover membership recruitment, retention and recognition including feature articles on new and existing business members.  Under the category of "Community" we'll cover beautification and environmental affairs, education as well as our arts and entertainment.  Under "Government" we'll cover advocacy issues on  city, county, state and federal levels with the support of the United State Chamber of Commerce and the Maryland Chamber of Commerce.
The "SBY Business Journal" as it will be named online will be available through its own website www.sbybizjournal.com  or through our Chamber website www.salisburyarea.com using a drop down tab on the home page entitled "News & Issues".
Advertising opportunities are available with different sized ads and extremely reasonable monthly pricing. For more information on posting an advertisement online, contact Sophia Smecker, Director of Public Relations and Media at the Chamber 410-749-0144, Monday-Friday 9am to 5pm. Please continue to send your articles and releases for insertion to Sophia. If you'd like to write an article about your business or industry for online insertion, forward to Sophia at ssmecker@salisburyarea.com.
This is the direction of today's business community and your Chamber leadership wants to remain in step and we feel this move is in that direction.
County Council/Executive Director/Sheriff pay raises:
Back in November of 2013, the Wicomico County Compensation and Allowance Commission presented its recommendations for compensation for the 5 County Council members, Council President and Council Vice-President, County Executive Director and Wicomico County Sheriff. Understand these recommendations are as directed by County Charter that the Executive Director appoint a commission every 4 years to make recommendations for the incoming administration. Additionally, the commission recommendations were based on research of comparable counties in Maryland. The Council listened to the recommendations and agreed to post to their next work session which was in December. At that December work session, several members of Council expressed their primary concern was balancing the revenue with increasing expenses. It was made clear by the Commission that these were" recommendations "and according to County Charter, Council can "decrease" but not increase the recommendations. Therefore since County Council members have not had a raise in nearly 20 years and if they pass over these recommendations, it would just add more years. If we don't take action and implement some type of raises, we'll get so far behind that we'll never be able to catch up and be competitive.
In early February this year, the County Council took action on these recommendations. The Council voted NOT to give incoming Council members raises. Raises would be effective December of this year for the next Council members. Then they moved to our County Executive Director and voted against that recommendation. The Council then took up the recommendation for Sheriff and voted against that raise.
You know there's a saying "you get what you pay for" and if we don't start taking care of these key leaders, they'll move on.  Again, the Commission's recommendations were the maximum therefore the Council could and should have voted if nothing else 50% of the Commission's suggested raises. The total amount of raises would have been $42,290. Since the raises would have been effective December of this year (2014) for the new administration and the County operates on a fiscal year (July 1-June30), the first year would have been at 50%-half or $21,145 total expense.
Here are the raises as proposed by the Compensation and Allowance Commission:
Council Members:

        $2,583 annually* times five members

President-County Council:

 $2,906 annually*

VP-County Council:

   $2,745 annually *

Executive Director:

   $13,724 annually*

County Sheriff:

           $10,000 annually*
(*)  December 2014-June 30, 2015….50% of each proposed annual amount
Several Council members mentioned to me and for that matter mentioned in the public Council meeting that they're not there for the money. That's all well and good, however, it may be the case attracting new prospective members to County Council to run for office in the years ahead including the Executive Director and Sheriff.
In conclusion, I'd recommend to the County Council that during the budget review process, Council rethink their position and review the Commission's report again.
Don't know if the Charter will permit it since Council has already voted against raises, but the current County Council during the budget review process may have one more chance to "make things right".
I welcome your comments/thoughts on our blog at www.salisburyarea.com