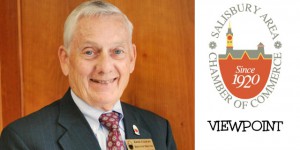 The Chamber is extremely busy these days with various items on our radar screen from Education, Minimum Wage, Economic Development Action Team, Tourism Network, Annual Economic Forecast and more.
I'll try and highlight where we are on several of these topics in the best interest of our membership.
First, Education….Our Community Outreach Division under the leadership of Vice President Melodie Carter and Assistant VP Steve Franklin are deep into Dual Enrollment which was rolled out at a formal press conference last month with an MOU(Memorandums Of Understanding) between Wicomico County Board of Education and Wor-Wic Community College, Salisbury University and forthcoming with University of Maryland Eastern Shore Campus. This program opens the door to those students that otherwise may never have had an opportunity to attend college or even think about it. We're also working with Education Matters Day the week of November 11th where  members of the business community can shadow a teacher or an administrator for the day and really get a better understanding of the day to day operations of the schools. We're looking at enhancing our Career Day for 9th graders next March and finally, looking into the details of Common Core State Standards.
Minimum Wage:  The Chamber under our Advocacy Division directed by Vice President John Cannon and Assistant VP Michael Weisner are preparing a general membership one or two question survey about minimum wage of full time employees in our market. Currently the Maryland minimum wage is $7.25 and there's talk about a bill taking this to $10.25 or HIGHER in the General Assembly next year. Our Chamber would be opposed to any increase in minimum wage right now for the following reasons: 1) The Eastern Shore historically is 12 to 18 months behind the rest of the state and country in recession recovery, 2) some are still or will be dealing with impacts of sequestration, 3) still concerned about how the Affordable Health Care Act will impact local business owners, and 4) at this period in the economic recovery, any mandated increase could or would be the final nail in the coffin for some businesses just barely hanging on. The Chamber will prepare and present a "position paper" to the 2014 General Assembly in Annapolis.
E-DAT ( Economic Development Action Team)-  Under the dual leaderships of the Advocacy Division with John Cannon and Michael Weisner and Business & Economic Development Division Vice President Tony Nichols and Assistant VP Chris Eccleston, the request of the Chamber and with the blessing from the City of Salisbury, we are recreating the Development Process Action Team from a number of years ago with a new name that includes a current/relevant approach to processes within the City of Salisbury/ County/State to facilitate greater economic development and growth in the years ahead. Our intent is to lay the groundwork through this committee and follow through. This ad-hoc short term committee will define categories of development; define existing approval processes; discuss streamlining processes including revised check lists, flow charts, and org chart. Our overall goal is to continue to think sustainable Economic Development and building the tax base in the City and County.
Tourism Network: Again under the direction of our Business & Economic Development Division, Wicomico County has partnered with the Chamber to form the Tourism Network. The tourism industry is a very competitive marketplace. Currently, tourism-related events bring a positive economic impact of $17.5 MILLION dollars to the county! We want to grow that number moving forward and we are confident that we can retain, strengthen and improve our competitive advantage, but only with the strong support from our business community-particularly those in the lodging, attraction, retail, and food/beverage sectors. We are developing a network of 15 key business leaders/stakeholders to not only champion the charge, but also to help guide the direction by assisting in the development of the Tourism Network's strategic plan moving forward. The Chamber is dedicated to grow our tourism business base in Salisbury and Wicomico County through the Tourism Network.
Finally, the Chamber has its Business Expo November 21st at the Civic Center in Salisbury in the Normandy Room. Our monthly General Membership Luncheon will be held beginning at 11:30am to 1:30pm that day with a special keynote speaker on the topic of downtown redevelopment. The Expo opens immediately following the luncheon at 1:30pm until 7pm with a Business After Hours from 5 to 7pm as well. Mark your calendar.
Our Annual Economic Forecast will be held at University of Maryland Eastern Shore on January 16th in the morning. More details on this event next month.
Remember, if you have an opinion or viewpoint, express it on The Chamber Voice blog on our website www.salisburyarea.com