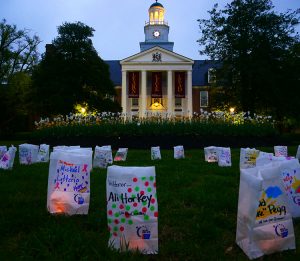 SALISBURY, MD—Facing the restrictions of the COVID-19 pandemic, the Salisbury University Relay For Life Committee was committed to continue its efforts to raise funds for the American Cancer Society in 2020.
A virtual ceremony was held Friday, April 24, in front of Holloway Hall, with looks back at recent Relays; a speech from a survivor, Dr. Lori DeWitt, Communication Department chair; and a lighting of luminaria in honor of those who have battled cancer. The luminaria lighting was streamed live on Facebook and remains available at https://www.facebook.com/RelaySU/videos/222296272530817/. DeWitt's speech is available through YouTube at https://youtu.be/JQmM9iOMjIU.
The event raised nearly $12,000 and will continue accepting donations through Friday, May 1, at www.relayforlife.org/sumd.
"During this difficult time, cancer won't stop, and neither will we. Cancer patients are more vulnerable than ever before," said Debbie White, senior community development manager for the American Cancer Society. "Even though we cannot currently be face-to-face, the SU Relay leadership and advisors came together to create a virtual Relay to continue fighting cancer head on. We are so grateful for the support."
For more information call 410-543-6030 or visit the SU Relay For Life webpage at www.relayforlife.org/sumd.