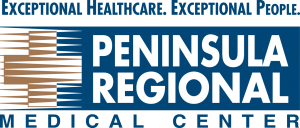 Peninsula Regional Health System (PRHS) has chosen to suspend all inpatient visitation beginning on Friday, March 20 at both Peninsula Regional Medical Center in Salisbury, MD and Nanticoke Memorial Hospital in Seaford, DE. Exceptions will be considered on a case-by-case basis for specific situations including end of life. Two parents or caregivers of pediatric patients will be permitted, as long as neither is symptomatic.  In Labor & Delivery, two visitors including the professional support person or postpartum helper will be allowed.  One visitor will be allowed in the surgery waiting area per patients, and social distancing is encouraged.
All Peninsula Regional Medical Group and Nanticoke Physician Network offices, specialty practices and immediate care centers remain open for patient appointments. However, due to COVID-19 concerns and to better ensure the protection of our patients and staff, no additional people will be allowed in the waiting rooms. We ask those who are driving patients to their appointments to please wait in their vehicles.
No visitation restrictions already in place at the Chesapeake Cove Assisted Living Center and the Tawes Nursing Home in Crisfield, MD will continue.
PRHS encourages friends, family and loved ones to use electronic devices and applications (phones, FaceTime, Skype, etc.) to keep in contact with patients.
Peninsula Regional Health System thanks our visitors for their help in keeping our patients, staff and other visitors healthy.  Your best protection against COVID-19 is to continue washing and sanitizing your hands.  Use soap and water for 20 seconds and alcohol-based hand gel frequently.
For the latest information on how PRHS facilities are prepared for COVID-19, please visit either of our websites at www.peninsula.org or www.nanticoke.org.  If you have questions, please call the COVID-19 Information and Triage Line at 410-912-6889.