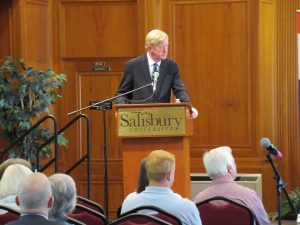 The Salisbury Area Chamber of Commerce in partnership with the Greater Salisbury Committee and PACE at Salisbury University, kicked off the series "Visits with U.S. Presidential Candidates" on June 4th at Holloway Hall on the University campus.
The lone Republican challenger to President Donald Trump, two-term Massachusetts Governor Bill Weld was the featured Presidential candidate.
Governor Weld fielded questions form a panel representing the three sponsoring organizations on topics ranging from "The New Green Deal", his campaign strategies, small business issues, foreign policy challenges, tax reform and Medicare for all. Audience members also participated in the forum with their questions for Governor Weld.
The series will continue with invitations to all of the Democrat challengers to participate in the series over the coming months.