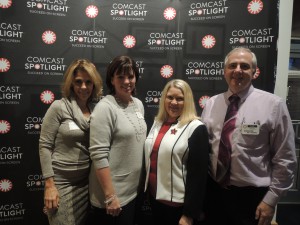 It was a festive evening and a wonderful turn out on December 10th for a Business After Hours at the Ward Museum of Water Fowl Art in partnership with Comcast Spotlight. Delicious holiday hors d'oeuvres and spirits were served as attendees browsed the Ward Museum's store "Treetops" for

Christmas gifts and enjoyed the lovely art and exhibits throughout the museum.  Guests were given discount coupons to use in Treetops that evening and this also entered them in a shop giveaway at the end of the evening.  Between the discount, special drawings and the door prizes, several people when home with special treats!   As the Ward Museum embarks on its expansion of the education center it was great to learn the ways our business community , as well as individuals, can play a role in supporting this important part of our region from corporate sponsorships and advertising opportunities to family memberships that give you access to over 800 other museums around the country.  Many thanks to Laura Bottinelli and her staff and board members for a great evening.
This was our last Business After Hours of the year! Please join us in 2016 as we showcase some great businesses.