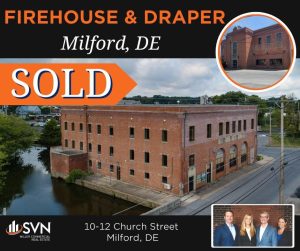 May 2023 – Wesley Cox, a senior advisor with The Hanna Team recently closed on a property assemblage including the historic former firehouse located in downtown Milford, Delaware. Also included in the deal was the waterfront office building across the street as shown in the photo below. The property will soon undergo renovations to be converted to apartments.
This transaction represents the 5th & 6th properties Cox has sold in downtown Milford which shows the continued optimism for the future of the area. Wes is currently negotiating a deal for the 7th transaction in the market which he hopes to be completed soon.
"This is the second former firehouse that I have sold with this one being one of those unique and special properties that we will never see built again in our lifetime so it was great to be able to be part of a deal that will restore this historic property and put it back to good use. After over a dozen showings representing many different ideas, we were able to get the right deal in place for the benefit of everyone involved including the town of Milford.", Cox commented about the sale.
According to WBOC news (a CBS affiliate), a representative for the new ownership group said, "It's a building that needs to have a productive use again. It's been empty and unused in a while and in Milford we have an extreme shortage of apartments, particularly apartments for the workforce that is not low-income, not luxury, but for people who work in the hospital, teaching in schools, fireman, policeman… It's hard to find an apartment, almost impossible to find an apartment right now in Milford. Our hope is, putting solar on the roof, geothermal heating and air-conditioning and making the building very energy efficient. Maybe it will even be one of those what they call 'zero carbon emission' buildings, and that would be great if we could do that."
The Hanna Team ranked in the top 1% of SVN International Corp. in 2021 and in 2022. With over 115 years of brokerage experience, if you want to work with someone that is looking out for your best interest (and not their own) that is consistently ranked as a top broker in the country please reach out to Wesley Cox at 410.543.2421 or wesley.cox@svn.com.