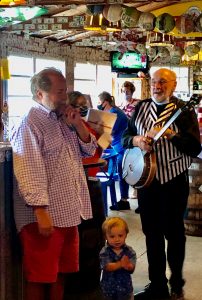 By Cathy Diekmann
Undeterred by the threat of rain and a country-side drive from Salisbury, members of the Salisbury Area Chamber of Commerce (SACC) gathered September 10, 2020 for a socially distanced Business After Hours at The Red Roost.
SACC President/CEO Bill Chambers welcomed members back to the second in-person Business After Hours since Covid-19 restrictions were eased, allowing for groups to meet, albeit with capacity limits and required safety precautions.
What a welcome opportunity it was! Businesses are built and sustained on relationships and the synergy of ideas. Networking opportunities in a relaxed (and now, Covid-19 safe) atmosphere are a long-standing tradition with Chambers of Commerce.
The event felt like a party – complete with entertainment, laughter, and great food. Former Wicomico County Council Administrator, Matt Creamer, and member of the iconic Backfin Banjo Band, strolled the floor playing his banjo. Red Roost servers graciously offered guests fresh, summer fruits and menu favorites such as crab balls, crab dip, and chicken wings.
Chambers noted that while the economic impact of Covid-19 has hit local businesses hard, the SACC is not only fully operational, serving and advocating for members, the organization is growing! New members since the July 2020 Business After Hours include In God's Hands Ministries, Phillips Foods and Seafood Restaurants, The Dunes Manor Hotel, The Resurrection House, and World Financial Group.
Host John Knorr of Southern Boys Concepts and co-owner of many restaurants, including The Red Roost, delighted guests with some of The Red Roost back story that exemplifies what he considers the "magical thing about the Eastern Shore."
Knorr and his brother Tom purchased the restaurant in 1996. It had been closed for nearly a year and a half and needed a lot of work to open. "We were just two guys from the Western Shore (of Maryland) … and that first weekend, we had 50 people we didn't even know show up to help us." Knorr added, "We hadn't advertised we were opening, but it was the strangest thing, that first night, the place got packed. And I'll never forget, there was a tractor, parked next to a Mercedes, parked next to beat-up old truck. When you walked in, you couldn't pick out who drove the Mercedes, or the tractor, or the truck.  It seemed everybody went to school together, knew each other, and all the generations got along. I thought, 'Wow, what a great place to live."
Knorr continued to express his appreciation for all the locals who have supported their restaurants and Evolution Craft Brewing Company over the years. "Y'all have done a lot for us and we try to give back as much as we can."
Referring to difficulties the Covid-19 pandemic has imposed on everyone, including the restaurant industry, Knorr exclaimed "This has been an absolutely crazy year. The Chamber has been great in helping us push and get answers from the Governor's office, the health department, and Salisbury City. It's tough to navigate, but we are fortunate to have great partners at the Chamber, with Mike Dunn at the GSC, and other businesses in the area."
Continuing the theme of what a "weird" year 2020 has been, Knorr announced that The Red Roost will do something "strange" by staying open until at least Thanksgiving weekend. Bull Lips Dock Bar will stay open through October, featuring a full oyster menu – raw, baked, and grilled, each Saturday in October.
Chambers closed out the program noting that the SACC will be hosting its annual events, with social distancing and Covid-19 safety precautions. Those events include the SACC Golf Classic on September 25, 2020; the 2020 Chamber Awards Luncheon on October 1, 2020; the Job & Career Fair on October 8, 2020; and the Southern Delmarva Economic Forecast on December 4, 2020.
For more information about these and other SACC events and opportunities, check out the SACC webpage, www.salisburyarea.com.