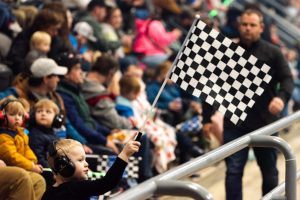 Salisbury, MD — It takes over 100 truckloads of dirt, heavy machinery and a lot of teamwork to prepare the Wicomico Civic Center for the upcoming Lone Star Rodeo and No Limits Monster Trucks events.
Affectionately dubbed  "dirt shows" by Civic Center staff, bringing the rodeo and monster trucks to Salisbury each January has been tradition for over 25 years.
"These events are staples in our winter entertainment schedule," said Chelsey Jones, manager of the Wicomico Civic Center. "Families look forward to the rodeo and monster trucks each year, and we are thrilled to welcome them back."
The Lone Star Rodeo takes place on Friday and Saturday, Jan. 20 and 21.
Rodeo contest events include bareback bronc riding, saddle bronc riding, calf roping, steer wrestling, cowgirls breakaway roping, team roping, cowgirls barrel racing and brahma bull riding.
The following weekend, Friday and Saturday, Jan. 27 and 28, No Limits Monster Trucks & Thrill Show takes over the arena with wheelie contests, two wheel contests and a freestyle event. New this year, Kaptain Khaos will attempt a death wall stunt. Other attractions include Tuff Truck races, kid's Power Wheels races and a monster ride truck.
Tickets for both shows can be purchased online at www.WicomicoCivicCenter.org, by phone at 410-548-4911 on in person at the box office.
###
Wicomico County Recreation, Parks & Tourism