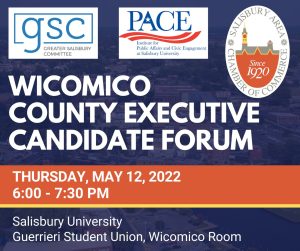 Mark you calendars for the Wicomico County Executive Candidate Forum, Thursday, May 12, 2022 6:00 PM to 7:30 PM at Salisbury University Guerrieri Student Union, in the Wicomico Room.
The candidates have been invited to attend a Q&A session where they will address a series of questions from a panel representing The Salisbury Area Chamber of Commerce, The Greater Salisbury Committee and PACE at Salisbury University.
The three candidates, incumbent County Executive John Psota (R), and challengers Julie Giordano (R), and County Council Vice President Ernest Davis (D) will address topics ranging from the County Budget, investment in the Wicomico County Public Schools, public safety, economic development and tourism opportunities, workforce housing, and infrastructure opportunities and challenges moving forward.
As time permits, written questions from the audience will be taken.
No registration is required. Free parking.