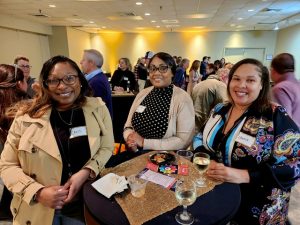 The Salisbury Area Chamber of Commerce was honored to have Wicomico County and its new Executive Director, Julie Giordano, host our Business After Hours on January 12, 2023.
Wicomico County serves the cities of Salisbury, Fruitland, Delmar, Mardela Springs, Pittsville and Hebron and it is the largest county in the lower Easter Shore of Maryland with over 106,00 constituents.  Through active local leadership and an open-door policy, Giordano and her staff have accepted the challenge to lead this County by offering the best services available to its citizens and the business community and local organizations.
Giordano expressed her thanks and support to over 150 members that attended this event. "I want to say special thanks to the Salisbury Area Chamber of Commerce.  When I was running for election, the Chamber was vital to my campaign, we became members and we were able to network and meet a lot people.  I really do think that made the difference.   But what was most important is how we saw that this is such a business-friendly community, and we realized that it needed an executive who was also business-friendly; somebody who was willing to work and be the voice not just here in Salisbury and Wicomico County but also in Annapolis and at the federal level.  So, we have already been to Washington DC and Annapolis and plan to continue doing so to advocate for our community.  It is not just me here at this event.  Our director of administration, Bunky Luffman, is here in case there is anyone that needs to address any issues they are having, and we also have eight (8) of our departments here with tabletops to talk about our services.  This is just a little sample of who we are.   I also want to thank the Wicomico Youth & Civic Center for their help and putting together such an amazing event."
This Business After Hours also had a eight (8) tabletops that featured information on county departments and guests were encourage to visit them to learn about services they offered.   Departments featured were Partnership for Families and Children, Board of Elections, Emergency Services, Planning, Zoning and Community Development, Parks, Recreation and Tourism, Human Resources, Salisbury Regional Airport and Bee Federal Credit Union.
Hors d'oeuvres and libations were served by Wicomico Youth & Civic Center's Encore.  Door prizes included tickets to Lone Star Championship Rodeo and the Monster Truck & Thrill shows at the Wicomico Youth & Civic Center, as well as swag baskets with gift cards to Mogan's Oyster House, Roadie Joe's and Market Street/Mojos.  50/50 raffle, benefiting the SACC Foundation Wor-Wic
Scholarship Fund, was won Christy Hoffa from Tezla.
For more information on Wicomico County visit www.wicomicocounty.org