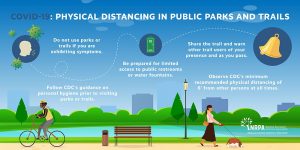 SALISBURY, Md. – Wicomico County officials have reopened trails and day use areas in county parks. Playgrounds, pavilions, tennis courts, basketball courts and pickleball courts will remain closed.
Visitors must follow social distancing guidelines from the U.S. Centers for Disease Control (CDC; https://www.cdc.gov/) and the Maryland Department of Public Health (MDH; https://health.maryland.gov/) to ensure a safe environment for themselves and others. Park restrooms will remain closed, and visitors are advised to prepare accordingly.
"Public cooperation with social distancing guidelines at county parks is critical," said Steve Miller, director of Wicomico Recreation, Parks & Tourism. "Failure to adhere to these guidelines could result in reverting back to complete park closures."
Clarification on activities permitted at parks under Governor Hogan's Stay at Home order can be found on the Department of Natural Resources website at https://news.maryland.gov/dnr/2020/03/31/frequently-asked-questions-about-governor-hogans-stay-at-home-order/.
Decisions made by county officials are fluid and can be changed at any time.
The Wicomico Recreation, Parks, Tourism and Civic Center department will continue to monitor the COVID-19 situation through regular updates from the Wicomico County Health Department and the Department of Emergency Services. Updates will be shared with the press, as well as posted to department websites and social media outlets.