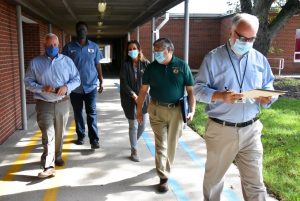 When Wicomico County voters go to the polls on the Nov. 3 General Election Day they will be able to vote at any of the nine locations, which include eight schools around the county as well as the Wicomico Youth & Civic Center.
On Nov. 3 from 7 a.m.-8 p.m.*, voting will take place at the following Wicomico locations:
Mardela Middle and High School, Mardela Springs
Westside Intermediate School, Hebron
Pemberton Elementary School, Salisbury
Salisbury Middle School
Bennett Middle School, Fruitland
James M. Bennett High, School, Salisbury
Beaver Run Elementary, Salisbury
Willards Elementary
Wicomico County Youth & Civic Center, Salisbury
*Anyone in line to vote at 8 p.m. will be able to vote, even after that time.
"Wicomico County Public Schools is proud to serve its community by working with the Wicomico County Board of Elections to have eight school buildings around the county serve as polling places," Superintendent of Schools Dr. Donna Hanlin said. "This demonstrates for our students, families and the greater community that Wicomico Schools recognizes the importance of elections and is providing access to school buildings so voters will have an array of choices about where to cast a ballot on Election Day."
Representatives of the Wicomico County Board of Elections visited all eight schools this week to:
· view the space where voting will take place in each school
· plan with school and school system staff for enough tables and chairs and other equipment such as wheelchairs to support the election process at each location
· review the schedule for Election Day as well as the preparations the day before
· inspect the secure room provided at each school for the storage of voting equipment prior to election week
"The Wicomico County Board of Elections has had a very cooperative working relationship with Wicomico County Public Schools for many years, and this collaboration supports access to polling places for the voters of Wicomico County," said Elections Director Anthony Gutierrez. "We are pleased to again work with the school system this fall to have polling places at eight schools on November 3rd, as well as our largest polling place at the Wicomico Youth & Civic Center." (The Civic Center also serves as the site for early voting Oct. 26-Nov. 2.)
Wicomico County Public Schools is required by the Code of Maryland to be closed on both Primary and General election days so that school buildings may be used for voting. Schools and school system offices will be closed that day, and meal bundles will not be available. Prior to the reopening of the eight schools to staff and students on Wednesday morning, Maintenance and Operations staff of Wicomico County Public Schools will clean and disinfect areas used for voting.
The eight schools serving as polling places may experience slight changes in routine during setup for the election on Monday, Nov. 2, but any instruction and services taking place at a school that day will continue, including the providing of meals for students at curbside and in classrooms.
As part of the rental agreement with the Wicomico County Board of Elections, campaign signs are permitted at designated polling places, including schools. These campaign signs may be placed starting at 5 p.m. Monday, Nov. 2, and must be removed by 8 a.m. Wednesday, Nov. 4.