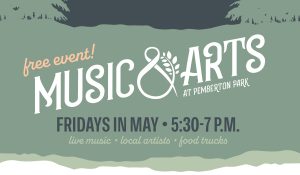 New, free event takes place every Friday in May
Spend Friday evenings in May exploring Music & Arts at Pemberton Park.
This new, free event features acoustic music in the amphitheater, local artists and food trucks.
"Pemberton Park is such a beautiful and unique space," says Fallon Jackson, program director of childcare & environmental education. "By introducing this new event, we are asking the public to see Pemberton Park in a new light."
The music lineup includes some local favorites:
May 6 | North Meets South: Classic, southern, modern rock and country hits
May 13 | The Folk Villains: Bluegrass folk trio
May 20 | Jon Pheasant: Classic & contemporary covers and original music
May 27 | Everett Spells: Motown, jazz and popular music
Artists and craft vendors will be set up each week with goods including original artwork; prints; painted glassware; homemade bath, body and wellness products; candles; herbal tea; jewelry; and seashell wreaths, décor, art and gifts.
Food and shaved ice will be available for purchase.
The park's recently-updated education building will also be open for tours.
"We have spent the past couple months renovating the education building in hopes to expand our environmental education programming," Jackson says. "We will be unveiling that project during Music & Arts."
Music & Arts at Pemberton Park is held every Friday in May from 5:30-7 p.m. and is sponsored by Avery Hall Insurance Group and Davis, Bowen & Friedel.
Learn more at www.PembertonPark.org.