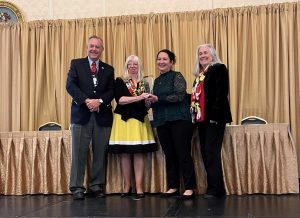 Salisbury, MD – Wicomico County Tourism received Maryland Tourism's Leveraging Partnerships Award on Monday during the 41st Annual Maryland Tourism & Travel Summit in Ocean City.
The Maryland Tourism Awards recognize excellence and major contributions in expanding the market of Maryland tourism products, maximizing opportunities to generate overnight stays, and leveraging partnerships to showcase Maryland as an exciting, must-see tourism destination. They are awarded by the Maryland Department of Commerce Office of Tourism Development and the Maryland Tourism Development Board.
Wicomico County Tourism received the Leveraging Partnerships Award for the Maryland Motorcoach Association Partnership. The department was commended for successfully identifying and packaging complementary assets in Maryland's Eastern Shore region in order to drive revenue with overnight stays.
The Maryland's Eastern Shore and Maryland Motorcoach Association Partnership provides a unified marketing strategy and tour packages that connect partners and assets found across the Eastern Shore region. This partnership resulted in Wicomico County hosting more than 300 group leaders and 70 vendors at the 2022 Group Leader Travel Showcase, held at the Wicomico Civic Center in Salisbury. The County worked with the other Eastern Shore jurisdictions to create a sponsorship package that included booth space, advertising, familiarization tour opportunities, participation and more.
Pictured from left to right are: Assistant Secretary of the Division of Tourism, Film and the Arts Tom Riford; Chair of the Maryland Tourism Development Board and co-owner and captain of the Oxford Bellevue Ferry Judy Bixler; Wicomico County Tourism Manager Kristen Goller; Managing Director of the Department of Commerce Office of Tourism and Film Liz Fitzsimmons.
###
Wicomico County Recreation, Parks & Tourism
www.WicomicoCounty.org
www.WicomicoCivicCenter.org
www.WicomicoRecandParks.org
www.WicomicoTourism.org